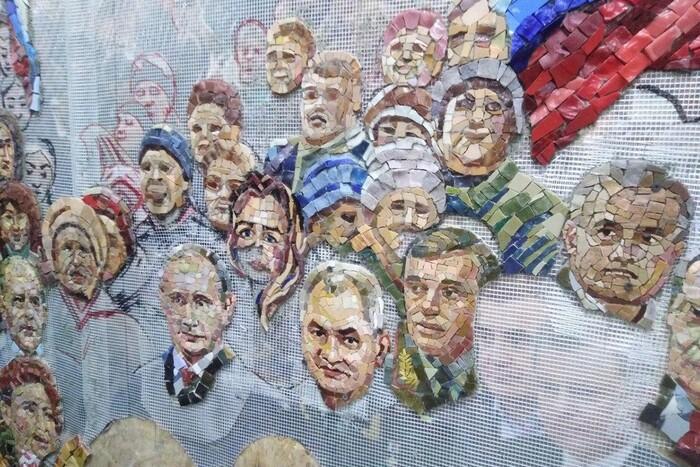 duhovnyfront.com.ua
Russia is planning to open a huge cathedral with mosaics depicting Vladimir Putin and Joseph Stalin, as well as the annexation of Crimea, on the 75th anniversary of the defeat of Nazi Germany next month.
The mammoth structure will be one of the world's tallest Orthodox cathedrals when it opens in the military's Patriot Park outside Moscow on May 9, The Guardian wrote.
Largely, the Resurrection of Christ Cathedral is a monument to the Soviet victory in the second world war.
But special attention has been paid to several eye-catching mosaics that glorify Putin and other Russian officials during the annexation of Crimea in 2014, an operation led by unmarked Russian army units referred to as "little green men."
One of the mosaics, first revealed by the MBKh News website, depicts Putin, Sergei Shoigu, the defense minister, Alexander Bortnikov, the head of the Federal Security Service, and other top brass walking among a sea of Russians bearing tricolor flags. Also in the crowd appear to be Valery Gerasimov, a prominent Russian general, and Sergey Aksyonov, the current de-facto head of Crimea installed by Putin.
One of the panels shows a sign that reads "Crimea is ours."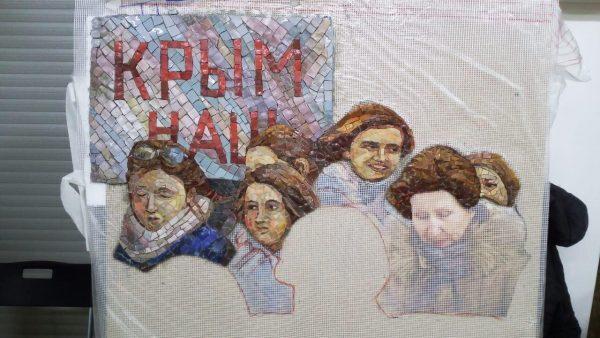 duhovnyfront.com.ua
Andrey Kuraev, an archdeacon, wrote: "It's like a guilty plea to The Hague. If an icon with the conquest of Crimea is placed in an army cathedral, that means the army played a decisive role in this operation."
Another mosaic depicts the 1945 parade following the victory over Nazi Germany, with a crowd of soldiers standing in front of the Kremlin and a banner bearing a portrait of Stalin. It is one of his first appearances on a state building since the 1960s.
"They are holding a poster with Stalin, but he isn't among the marshals of the victory, despite being the commander in chief," the artist who made the mosaics told the Novaya Gazeta newspaper.