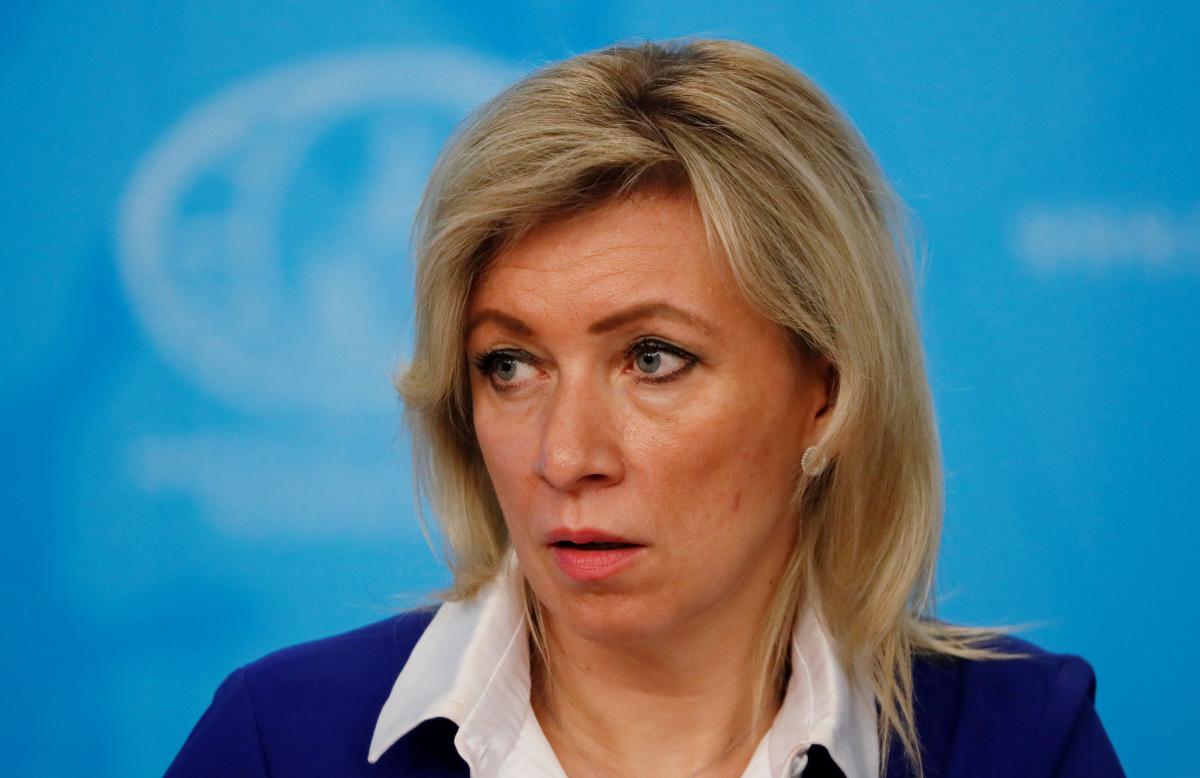 REUTERS
Russian Foreign Ministry spokeswoman Maria Zakharova has found herself in the epicenter of a diplomatic spat for disrespecting Serbian President Aleksandar Vučić.
On Facebook, Zakharova posted a photo of Vučić sitting at the White House's Oval Office in front of U.S. President Donald Trump, comparing the leader to Sharon Stone's character from the iconic Basic Instinct movie.
Vucic was in Washington as head of the Serbian delegation for talks with Prime Minister of the self-proclaimed Republic of Kosovo Avdullah Hoti, brokered by Trump.
Following the negotiations, the parties signed an agreement on economic cooperation, according to RFE/RL.
Snapshot
Zakharova, however, has chosen to ridicule the breakthrough talks. In a caption to the two photos – one of Vučić sitting before Trump and the other of Sharon Stone's legs – the Russian foreign ministry's spokesperson wrote: "If you were invited to the White House and your chair was put as if it was an interrogation, sit there like it's shown on pic 2. Whoever you are. Just trust me."
Read alsoSerbian defense chief tests positive for COVID-19 after visiting Moscow paradeThe publication drew strong reactions in Serbia.
Chief of the Chancellery for Kosovo and Metohija under the Serbian government Marko Djurić spoke in Vučić's defense. "The President said not a single nasty word about Russia, even there. Imagine that the president waited an hour to be received by the president of Russia and never once asked for a special chair. I won't let you attack a proud Serbia. You should be ashamed," he wrote on Twitter.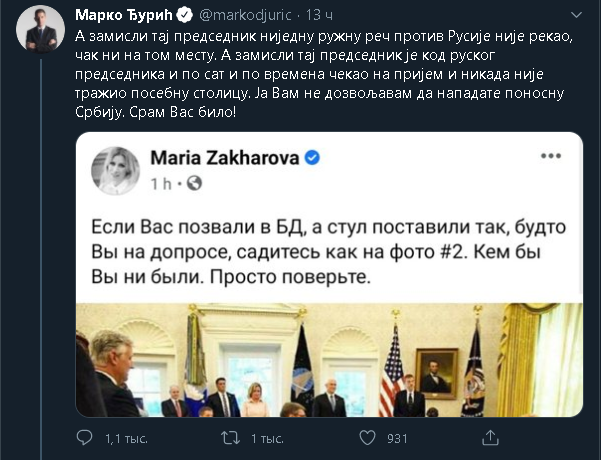 Snapshot
Serbian Defense Minister Aleksandar Vulin also spoke out.
In a statement published by the ministry's press service, Vulin recalled that Vucic is the only statesman in Europe who has refused to impose sanctions on Russia. Also, he is the commander in chief of the Serbian army, which works closely with the Russian one, TASS reports.
"The person's size is measured neither by the size of the chair on which they sit, nor by the amount of force on behalf of which they speak, but by the size of courage to defend – in any chair – their people and friends of their people," the Serbian defense minister concluded.
Russia-Serbia relations
Today, Serbia is virtually Russia's only ally in Europe. Belgrade traditionally perceives Moscow as an important geopolitical ally.
According to open sources, from 2002 to 2014 the volume of Russian investments (mainly by oil and gas companies) in Serbia amounted to about $3 billion.
After the outbreak of Russian aggression in Ukraine, Serbia did not impose sanctions against Russia.
In April last year, Vucic said Serbia would not introduce Russia sanctions and neither will it join NATO.