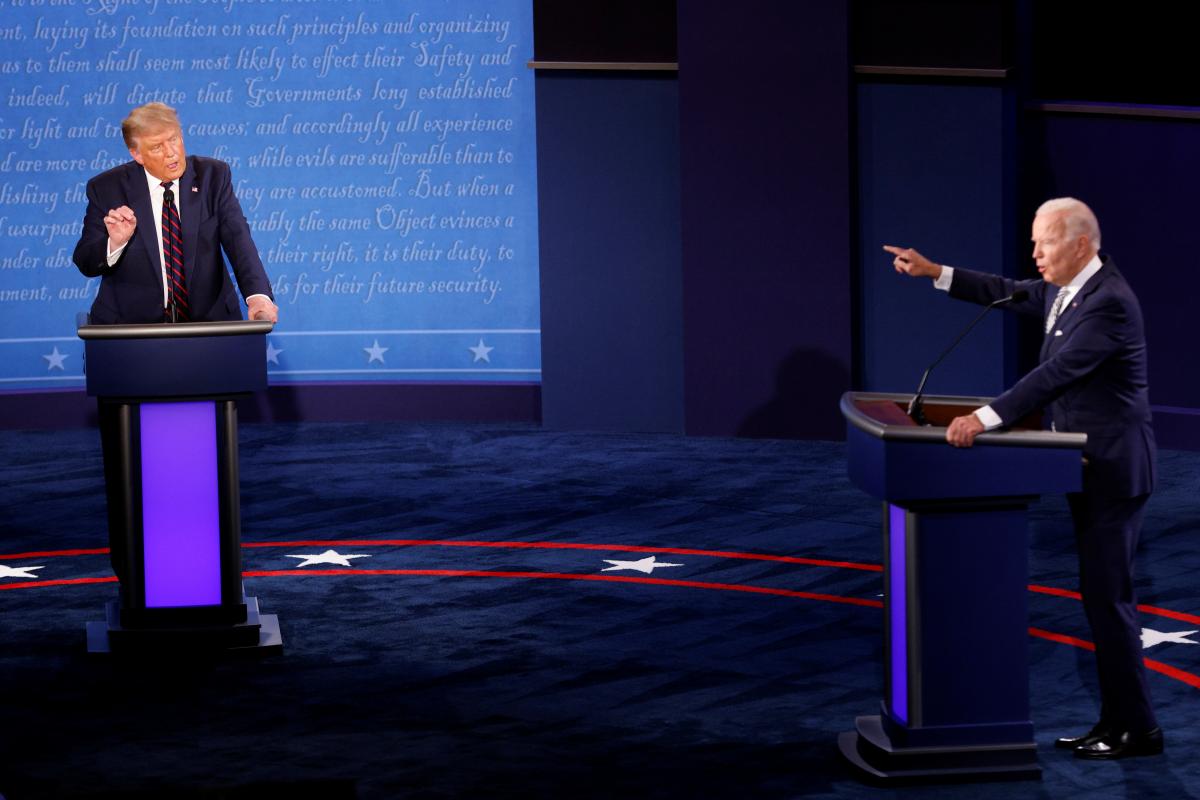 REUTERS
The first presidential debate in the U.S. between incumbent Donald Trump and his Democratic rival Joe Biden featured a series of bitter exchanges and name-calling, with the president repeatedly speaking over his opponent and the moderator struggling to maintain control.
The president leveled barrages of unfounded accusations against his Democratic rival and his family, invoking his son Hunter Biden's work in Ukraine and bringing up the younger Biden's history of drug abuse. Mr. Trump declined to condemn white supremacist groups and defended his response to the coronavirus pandemic that has claimed more than 200,000 American lives, trying to portray Biden as a socialist who isn't equipped to occupy the Oval Office, according to the CBS News.
Biden, for his part, tried to direct his answers to the audience watching at home. He called Mr. Trump "the worst president America has ever had," blaming him for bungling the response to the pandemic and fueling racial divisions amid recent protests against police brutality.
"This is a president who has used everything as a dog whistle to try to generate racist hatred, racist division," Biden said.
Biden argued that the president had weakened the country.
"Under this president, we've become weaker, sicker, poorer, more divided and more violent," Biden said. He also called the president "Putin's puppy," referring to the Russian president.
Biden criticized the president over reports that he has referred to military service members as "losers" and "suckers." He referenced his son, Beau Biden, who served in Iraq and died of brain cancer in 2015.
"I don't know Beau, I know Hunter," Mr. Trump said, referring to Biden's other son, whom the president has criticized for his ties to a Ukrainian gas firm.
Read alsoZelensky: Ukraine mustn't be dragged into U.S. election process over leaksBiden noted that his son Hunter had overcome an addiction problem, and said "I'm proud of my son."
After Biden said China has "perfected the art of the steal" under Mr. Trump's presidency, Mr. Trump found his moment to strike.
The president went after Hunter Biden, the former vice president's son who sat on the board of a Ukrainian energy company while his father was in office. Mr. Trump insisted Hunter Biden made millions of dollars, and claimed without evidence that he received money from the former mayor of Moscow.
Biden emphatically insisted his son did not receive millions of dollars from the former Moscow mayor. A lawyer for Hunter Biden has also denied the claim, saying the younger Biden was not involved in a partnership named as receiving $3.5 million in a recent Senate report.
At the Hunter Biden topic, the moderator intervened: "We've already been through this. I think the American people would rather hear about more substantial subjects."
Read alsoNYT: Trump paid no income taxes in 10 out of 15 years beginning in 2000Mr. Trump and his allies have long gone after Hunter Biden as a way to attack the former vice president. The president was impeached for pressuring the president of Ukraine to investigate Hunter Biden's work in the country.
Biden finally had enough. "Will you shut up, man?" an exasperated candidate said. "It's hard to get any word in with this clown."
"His family we could talk about all night," Biden said, pointing to the president's children who work in the White House and on the president's campaign.