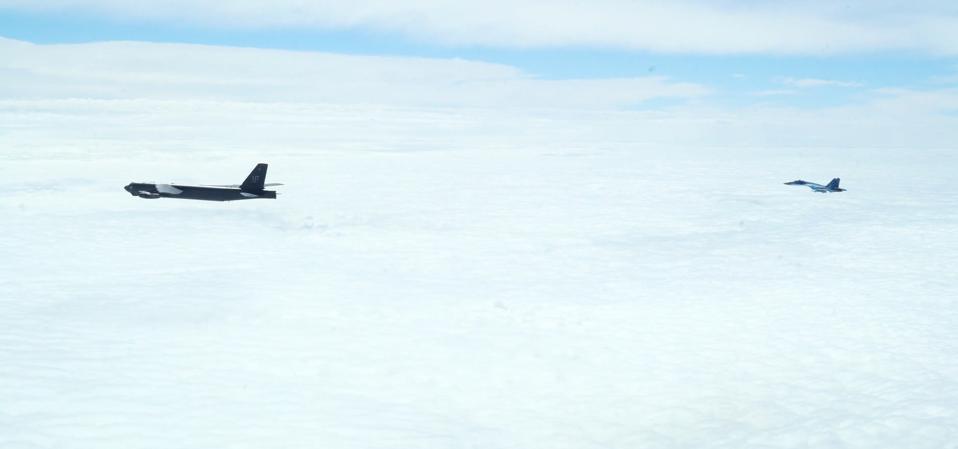 A Ukrainian air force Su-27 forms up with a U.S. Air Force B-52 flying over Ukraine on Sept. 4, 2020 / US Air Force
Three U.S. Air Force B-52 Stratofortress bomber aircraft from the 5th Bomb Wing, Minot Air Force Base, North Dakota, flew over Ukrainian airspace, including to the de-facto border with the occupied Crimea and the contact line in the Donbas warzone on Friday, September 4.
They conducted "vital integration training with Ukrainian fighters", says the report by US European Command (USEUCOM).
According to The Drive outlet, the mission involved a number of U.S. aerial intelligence, surveillance, and reconnaissance (ISR) assets, as well as those from the United Kingdom, that were seen operating in the area at the time. 
The report noted a Tweet by Petri Mäkelä who claimed: "This is the most intensive SIGINT [signals intelligence] bait I've seen in a while. At least two USAF RC-135V/W Rivet Joint SIGINT planes recording the Russian emissions (radar, comms etc.) from Crimea and Russia as a flight of B-52H bombers circle along the Azov coast in Ukrainian airspace."
"In wartime, this information could help planners determine how to suppress or destroy Russian air-defenses in the region," Forbes wrote.
EUCOM's official report says the B52 bombers' mission "provided partners valuable midair training."
"In addition, the mission demonstrated how forward-located aircraft and crews, such as those in the B-52 units, enable collective defense capabilities and provide the U.S., NATO Allies and partners strategic and operational breadth to deter Russia and assure Allies and partners," the report reads.
More than 200 related missions have been conducted since the Bomber Task Force launched operations in the European theater two years ago, the U.S. European Command says.
Air forces: other news
In May 2020, two USAF heavy bombers conducted a flight over Ukraine in integration with Ukrainian fighter jets.
"This marked the first time that a Bomber Task Force mission integrated with Ukrainian Su-27 Flankers and MiG-29 Fulcrums and Turkish KC-135s," the U.S. embassy reported.
On August 28, Ukraine's Air Force held military exercises in Rivne region, involving landing and take-off of Su-27 fighter jets on the Kyiv-Chop highway. Skills worked out would "come in handy for war pilots in the event of a large-scale enemy invasion," Ukrainian media reported.