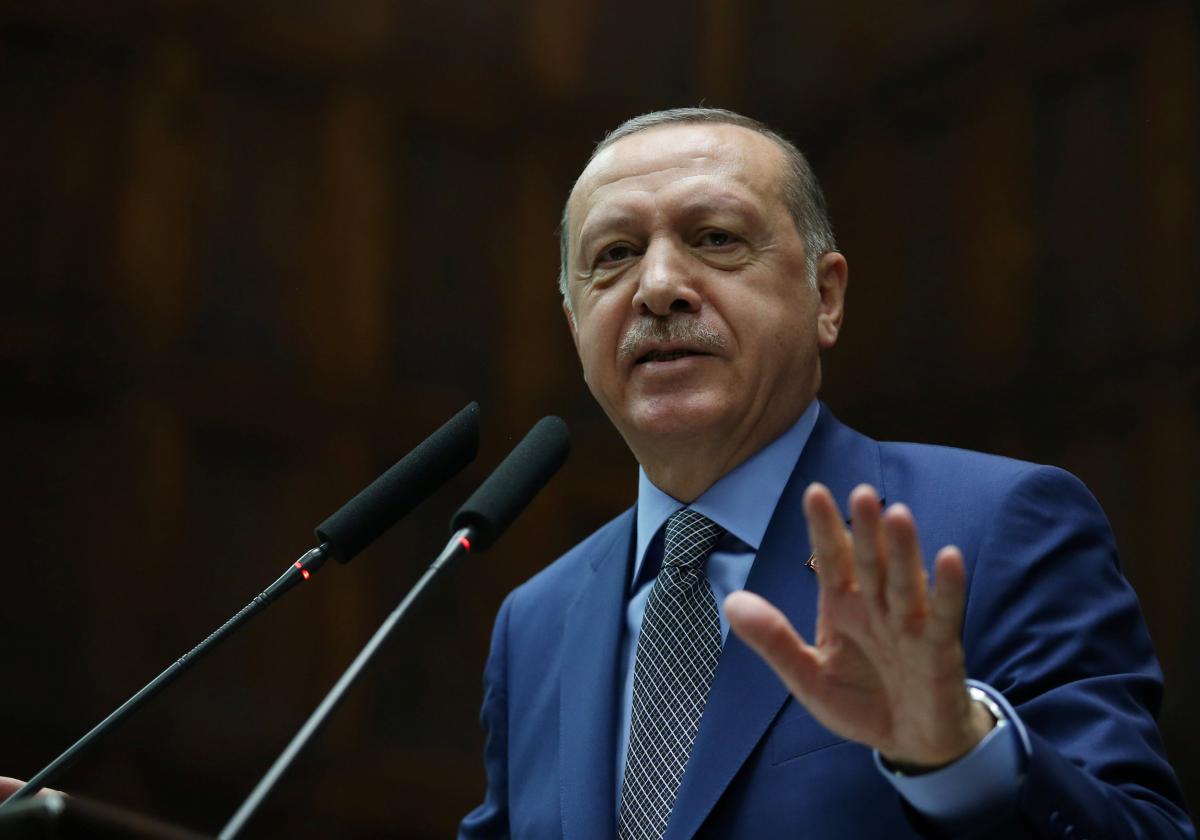 REUTERS
Turkish President Recep Tayyip Erdogan and his Russian counterpart Vladimir Putin on Nov 19 attended the ceremony marking the completion of the offshore section of the Turkish Stream Project, a gas pipeline bypassing Ukraine.
"For us, Russia is a friend we can have long term cooperation with and is an important natural gas supplier," Erdogan said, speaking at the ceremony, according to Hurriyet Daily.
He identified that this project is one of the outcomes of a "tested friendship" throughout many years and said Turkey has never judged its relations with Russia over "impositions of other countries."
Read alsoPoroshenko, Erdogan instruct to accelerate preparations for signing FTA
"Countries' decisions as to how to obtain natural gas in accordance with their own circumstances must be respected. Pressure, which will violate states' sovereign rights and prevent them from serving their citizens, will benefit no one," said Erdogan.
"I believe our solidarity with Putin and the Russian people will be foreshadowing of bigger projects," the president said.
"Turkish Stream is a project of historic proportions for our bilateral relations and for energy geopolitics in our region, on which we have exerted great efforts with our Russian friends," said Erdogan.
Vladimir Putin, for his part, thanked Erdogan for his "political will and courage" and the Turkish Parliament for immediate permission for Turkish Stream.
Read alsoUkraine in talks with Turkey on purchase of UAVs – Turchynov
TurkStream and the Akkuyu Nuclear Power Plant will be symbols of the development of relations between Turkey and Russia, he said, noting that his country wants to reach a $100 billion bilateral trade volume with Turkey.
As UNIAN reported earlier, the United States remains in opposition to the Nord Stream 2 and Turkish Stream gas pipeline projects bypassing Ukraine, that's according to U.S. Secretary of Energy Rick Perry who visited Kyiv last week.
The TurkStream will deliver Russian natural gas across the Black Sea to Turkey and then onto Europe.
Read alsoPompeo to Klimkin: We'll keep working together to stop Nord Stream 2 (Video)
Gazprom began construction of the offshore section of the Turkish Stream in May 2017. The Turkish Stream project envisages the construction of two pipelines, each 939 kilometers long.
The first line will be designed for the Turkish market and will meet 35 percent of Turkey's natural gas consumption alone. The second is for gas supply to countries in southern and southeastern Europe. The capacity of each line is 15.75 billion cubic meters of gas per year. The first deliveries are scheduled for the end of 2019.
The progress on the construction of the second line will depend on from where Russian natural gas will enter Europe, the relevant natural gas agreements to be signed and the route. Two lines will have a total throughput capacity of 31.5 billion cubic meters of gas per year. The first stream of gas is expected to flow through the pipeline in December 2019.