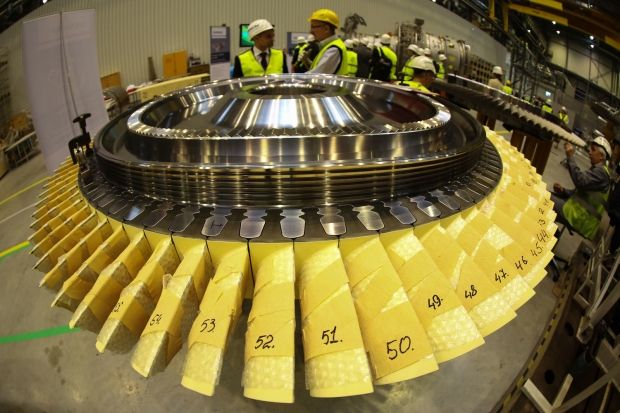 vedomosti.ru
Gas may become a major resource for power generation in Crimea, according to the report. In addition, two gas pipelines are planned to be built from Russia through the Kerch Strait in a project Russia's energy giant Gazprom and Germany's Siemens are both interested in, as the latter is very likely to become a supplier of the necessary equipment, the article says.
The report says that in the summer of 2014, Russia's Technopromexport engineering company, which is part of state-owned Rostec corporation, was selected the main contractor for the construction of new power units of the thermal power plant (TPP) in Simferopol and Sevastopol.
According to the procurement plan of Technopromexport company, in 2015 a total of RUB 4.2 billion (about $62 million) is to be allocated for the supply to Crimea of the combined cycle gas turbine units, along with generators and auxiliary equipment. The equipment is said to be delivered to Simferopol and Sevastopol.
Read alsoRussia deploys gas turbine power station in occupied CrimeaA tender for the supply of turbines, generators and auxiliary equipment for four combined cycle gas turbine units with a 235 MW capacity [corresponding to the nameplate capacity of Siemens SGT5-2000E] was announced in August 2015. Taman [Krasnodar Krai, Russia] was specified as the destination of shipments according to the documents, where a powerful thermal power plant would supposedly be built.
It is reported that a new thermal power plant in Taman is in fact just a virtual intermediate logistics point for fitting out power generating units in Crimea.
"It seems that Moscow believes that this way it can bypass sanctions, since a manufacturer of gas turbines is a joint venture of Siemens Gas Turbine Technologies with the private, not the public, co-founder from the Russian side, registered and located in the territory of the Russian Federation in the North West Federal District. The new thermal power plant is also located in the territory of the Russian Federation in the Southern Federal District, Taman. In case it is moved from a virtual point to an actual one somewhere in the territory of the "Crimean Federal District," it will thus be within the sole competence of the customer and the contractor of the TPP, that is Russian companies Rostec and Technopromexport, both of which, among other things, are related companies," the publication sums up.