Bloomberg: Weak ruble lets Russia export cars it doesn't make
The oil crash gave enough of a jolt to the ruble to send a steady stream of luxury cars from Russia to Germany, China and the U.S., with sales of just Land Rovers quintupling, according to Bloomberg.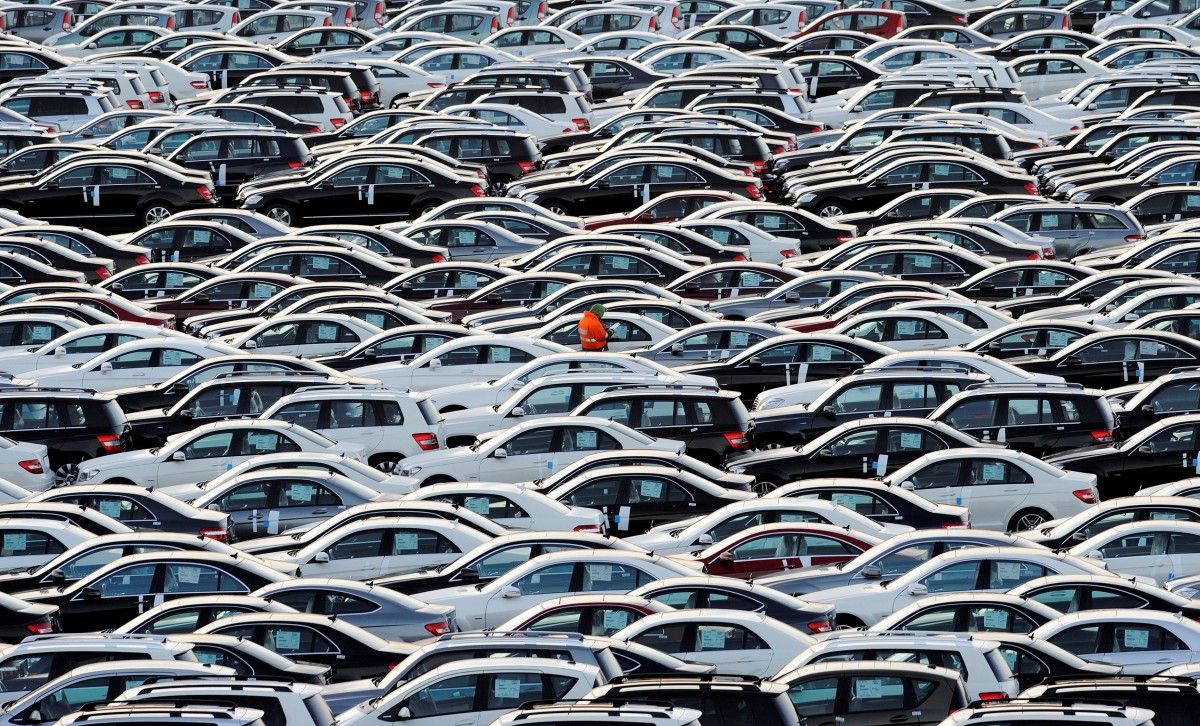 REUTERS
Seizing on currency disparities, Russians made quick money by re-exporting the vehicles, which got so cheap in ruble terms that selling them back – sometimes to the same country that manufactured them in the first place – became a way to turn a profit, Bloomberg wrote.
"Thanks to the ruble's depreciation, prices of cars sold in Russia turned out to be cheaper than on foreign markets," said Andrey Tomyshev, head of the automotive group in the Commonwealth of Independent States at Ernst & Young in Moscow. "The price difference in Russia and abroad made the re-export of cars from Russia lucrative."
Read alsoStratfor's predictions in Business Insider: collapse of Russia, 4 Europes, 16 mini-Chinas next decadeAt half the value it had three years ago, a more flexible ruble has helped deflect the shock of the worst oil collapse in a generation by shielding the budget and propping up industries from agriculture to chemicals. What it hasn't done is to light the spark of a manufacturing revival and offset the steepest drop in domestic demand under President Vladimir Putin. Russia last quarter showed no sign of snapping out of a recession, already on track to be the longest in two decades.
Currency management this month has emerged as a point of contention between the central bank and some government officials. Putin's economic aide, Andrey Belousov, said last Thursday that the Russian currency's strength relative to oil prices endangers the budget and the competitiveness of local companies. The Bank of Russia respondedby saying it won't influence the exchange rate and remains committed to its free-float policy adopted in late 2014.
The debate around the ruble intensified after it shrugged off a decline of more than 7% in Brent oil this month, losing only 1% in the same period. The ruble has appreciated almost 14% against the dollar this year after a 20% loss in 2015.
Most Russian companies favor a strong and stable exchange rate because that would help reduce output costs, become more competitive abroad and pave the way for modernizing production with imported equipment, according to results of a survey published by the central bank's research department in May. The leather and footwear industry was the only one among the respondents to express preference for weakening the ruble, it said.
The auto industry, which has seen car sales plunge every month since the start of 2015, has been one of the biggest recipients of state aid during a recession that's into its second year. The government has allocated about 50 billion rubles ($764 million) this year after 43 billion rubles in assistance in 2015.
While automakers like Volkswagen AG and Hyundai Motor Co., which have assembly lines in Russia, have been able to raise exports as well, shipments abroad in the first four months of the year have included cars including Daimler AG's Mercedes-Benz and Toyota Motor Corp.'s Lexus, according to market researcher Avtostat. None of them is manufactured in Russia.
The top destinations for Russian car exports between January and May were Germany, China, and the U.S., according to customs data. PricewaterhouseCoopers LLP estimates that about 8% of all cars sold in Russia in 2015 were bought for re-export by foreign nationals, mostly by the citizens of Kazakhstan and Belarus, which are among the ex-Soviet members of a customs union with Russia.
Read alsoSales of new cars in Ukraine decline by almost 10% in JulyOf the Land Rovers sold inside the country in the first four months, almost a third, or more than 1,000, were re-exported to countries like the U.S., Avtostat estimates. Two of them were even resold to the U.K., where they were first built. The Russian unit of Jaguar Land Rover, owned by Tata Motors Ltd. of India, said it isn't involved in the re-export.
If you see a spelling error on our site, select it and press Ctrl+Enter