Photo from UNIAN
The Ukrainian Grain Association (UGA) has recently published its latest forecast for this year's grain and oilseeds harvests in Ukraine. Their estimates say the total gross harvest of the said crops could reach a record 100 million tonnes.
This is the most optimistic forecast for 2020, the year marked by drought, uneven precipitation, and unexpected frosts that ruined part of the crops.
In its official outlook, the Ministry for Development of Economy, Trade, and Agriculture says the grain harvest will not exceed 90 million tonnes.
"The increase in the gross harvest and export forecast was due to the improved forecast for barley and maize, which could set a new absolute record for Ukraine," UGA said.
Experts say this year farmers could harvest almost 39 million tonnes of maize against last year's 35 million tonnes, while exports could grow to 33 million tonnes, which will also be a new high.
Noteworthy, maize is the country's major export product on which foreign exchange earnings largely depend, as well as general well-being of population, respectively.
Weather pundits also expect pin great hopes on the record maize harvest this year. "Rains that came in May provided good moisture to the soil under late crops – paradise conditions were formed for maize, sunflower, and soybeans. If farmers reap a record harvest, it will be only at the expense of maize. There will be no record high for wheat this year due to the drought," Tetiana Adamenko, head of the agri-meteorology department at the Ukrhydrometeorology Center, told UNIAN.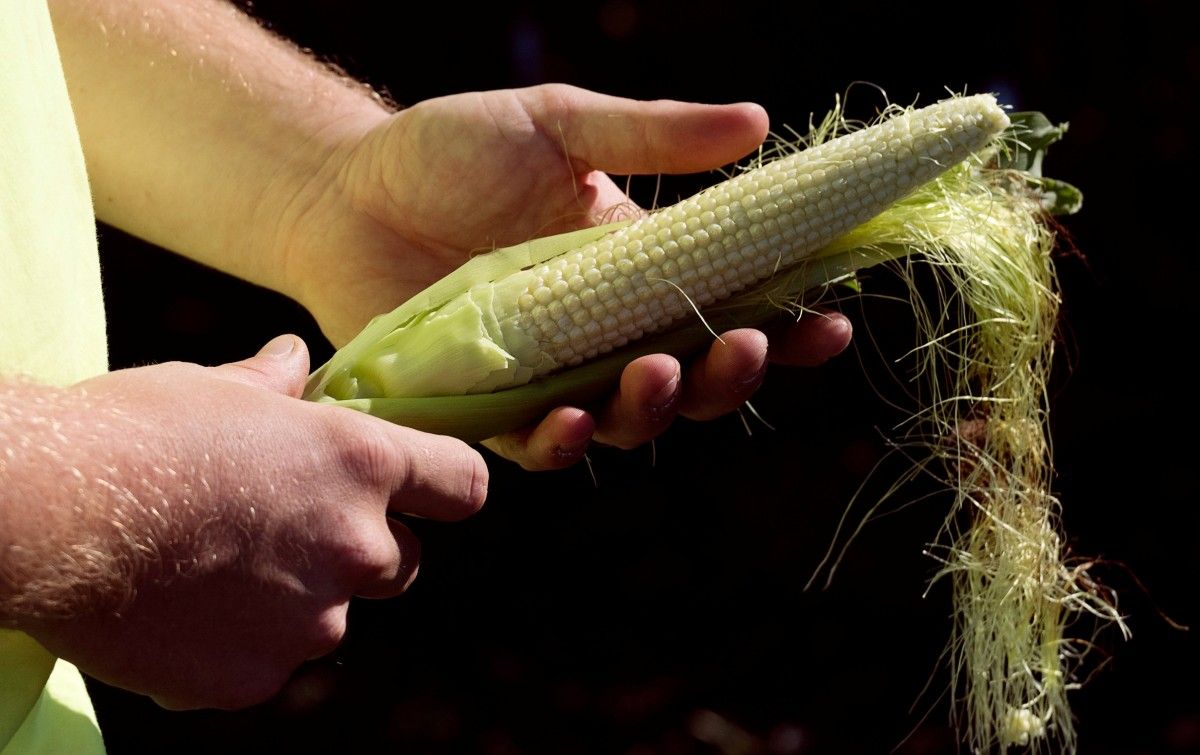 REUTERS
The only issue was uneven precipitation in different regions across the country. In southern areas, drought is still ongoing, so dry soil doesn't allow crops to fully develop. In some areas, on the contrary, heavy downpours were what affected maize crops.
"Maize was literally going crazy over precipitation in June. Ideally, the rains should have started earlier. There will be maize, but its quality will deteriorate," says Stanislav, a farmer from Poltava region.
It should be noted that Ukraine ion 2020 is seeing almost a million more hectares of corn fields on year, which leaves hope for a nice gross harvest.
Wheat harvest is expected at around 27 million tonnes, slightly lower than in 2019. The pace of harvesting still lags significantly behind last year's due to the June rains.
Although it might be too early to discuss the issue about this, global grain prices may go up against the backdrop of a possible second coronavirus wave in many countries and quarantine restrictions set to be re-imposed this fall, which could lead to a rise in bread prices in Ukraine.
Salad seasons not canceled
Summer vegetables of domestic production are gradually filling the counters of Ukrainian markets and supermarkets, but at the same time Ukraine continues to increase greenhouse tomato and cucumber imports.
"Low air temperatures and heavy rains delayed vegetable ripening, so, respectively, the supply of Ukrainian products to the domestic market was limited, while prices remained fairly high. This fact stimulated importers to continue purchasing tomatoes and cucumbers from Turkey, Poland, the Netherlands, and other European countries," said Kateryna Zvereva, Development Director at the Ukrainian Fruit and Vegetable Association.
The August sun and heat contribute to the open ground vegetable ripening at farms and household land plots. However, Ukrainian producers in the midst of the summer salad season will have to compete for buyers with cheap tomato and cucumber imports.
Read alsoExperts predict increase in global potato consumption
It is worth recalling that one of the most affected agricultural sectors in 2019 was potato growing. Ukraine unexpectedly increased potato imports, mainly from Russia, by 43 times! At the same time, high-quality, albeit expensive Ukrainian potatoes simply disappeared from storage facilities and only at the end of the year did they reappear in Ukrainian and foreign markets.
Deemed unfeasible, potato sowing dropped among Ukrainian villagers who are the main suppliers of these root crops to food markets. At the same time, the sowing area for industrial-level potato growing has expanded.
"The main focus is on expanding the area for potato processing (chips and starch). Production areas have also been expanded for table potatoes," Oksana Ruzhenkova, chief of the Ukrainian Association of Potato Producers, told UNIAN.
The Institute of Potato Growing at the National Academy of Agrarian Sciences of Ukraine is optimistic about the productivity of current crops.
"There are all preconditions that potato yield will be higher than last year. Despite the fact that long rains and cold spring created not too favorable the conditions," says Mukola Furdiga, Deputy Director of the Institute for Research in Breeding and Seed Production.
As for the rest of the vegetables in the borsch kit – beet, carrot, onion, and cabbage – nothing critical is expected in their relation. However, it is worth considering that with every year the harvest of these vegetables is becoming lower, and in the event of a bad harvest, prices hikes are possible in the fall.
Rising fruit prices
This spring, Ukrainian orchards were shocked by sudden frosts, due to which farmers almost said goodbye to the harvest of cherries, apricots, and apples. Cherries, albeit very expensive, we out there on store shelves this summer, so apples will be there, too. At professional farms, these crops didn't suffer from bad weather, says Yevhen Kuzin, an analyst with APK-Inform.
"Weather conditions for apple producers in Ukraine this season were more favorable than a year earlier. Issues such as hot summers and spring frosts have had a negative impact mainly on less intensive gardens," he notes.
It is expected that Ukraine this season will produce nearly 1.2 million tonnes of apples, which is slightly more than in 2019. This season's peculiarity is that Ukrainian gardeners are guided mainly by the domestic market due to high prices. Exports to India, China and other countries will fade into the background for now.
Apricots will be scarce this year. In early August, even wholesale prices for these fruits reached UAH 40 per kilo, which is one and a half times higher than last year. The main reason for the decline in the gross harvest of apricots were this spring's continued frosts, which led to southern farms losing up to half of their crops.
The same applies to the thermophilic peach orchards in Odesa and Kherson regions, which didn't survive sudden temperature jumps this April.
In August, at the beginning of the watermelon season, the cost of Kherson berries, much loved by most Ukrainians, came as an unpleasant stunner. Traders say prices for watermelons at the beginning of August were the highest for the last five years and reached UAH 6 per kilo in wholesale.
Read alsoPace of grain exports from Ukraine slower than last year
Experts reassure that this is due to the peculiarities of 2020 weather conditions and the uneven ripening of watermelons in the main producing areas, rather than poor watermelon harvest in general.
Accordingly, watermelon supplies on the market remain uneven, analysts say.
In general, one thing is certain about grain, vegetable, and fruit crops in 2020 – this year will not be the worst one and it will definitely not leave Ukrainians starving.
Indeed, many farmers and exporters will suffer certain losses, while buyers will sometimes have to fork out for the long-sought produce. However, things this year got difficult for most countries, not only Ukraine. Coronacrisis, quarantine restrictions, and unfavorable weather conditions complicate harvesting in Europe – that's besides labor force deficit as the traditional flow of Ukrainian migrant workers is down due to massive border lockdowns.
Anna Nahorna