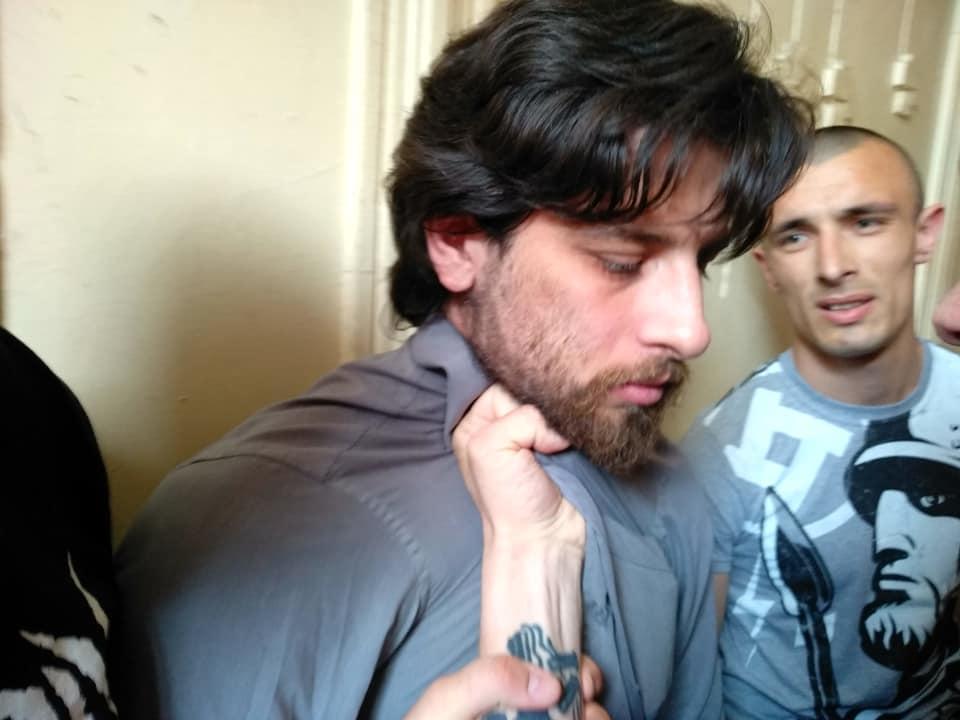 Rafael Lusvarghi killed Ukrainian soldiers in Donbas / Photo from facebook.com/yevgen.karas
Ukrainian nationalists have caught Rafael Lusvarghi, a 33-year-old Brazilian mercenary, who fought on the side of Russian-led troops against the Ukrainian army in Donbas, eastern Ukraine, and brought him to the office of the SBU Security Service of Ukraine in Kyiv.
After it became known that Lusvarghi, who was sentenced to 13 years in prison in Ukraine on charges of terrorism, has been secretly living in Kyiv's Moscow-controlled Sviato-Pokrovsky Holosiyivsky Monastery, members of Ukrainian nationalist organizations went to the monastery, but the Brazilian had already left it. The nationalists examined his room there, head of the group С14 (Sich) Yevgen Karas said on Facebook on May 4.
Later, it became known С14 members detained Lusvarghi outside the building of the Embassy of Brazil in Kyiv.
He was taken to the SBU's main office located in the center of Kyiv.
"[Lusvarghi] is saying sorry to the Ukrainian people on his knees and asking for return to a detention center," Karas said.
As was reported earlier, Lusvarghi, the self-described former member of the French Foreign Legion, arrived in Russian-occupied Donbas in the middle of 2015, avowing "great love for Russia" and being determined to fight "fascism" in Ukraine. He fought in such signal Ukrainian battles as the fights for the town of Debaltseve and Donetsk airport, where the Ukrainian army sustained heavy losses.
In January 2017, Lusvarghi became the first non-Russian convicted for crimes related to the war when he was found guilty in Ukraine of creating a "terrorist organization" and "recruiting mercenaries for terrorists."
Ukrainian prosecutor in Lusvarghi's case Ihor Vovk explained that the Brazilian citizen was supposed to be swapped in December 2017 for Ukrainian hostages held by the self-proclaimed Donbas republics, the "DPR" and the "LPR."
"Thus, his measure of restraint had to be changed, as he was accused of crimes that suggested imprisonment," he said.
A Ukrainian court released Lusvarghi but his swap did not take place, and he has been living in Kyiv since then.