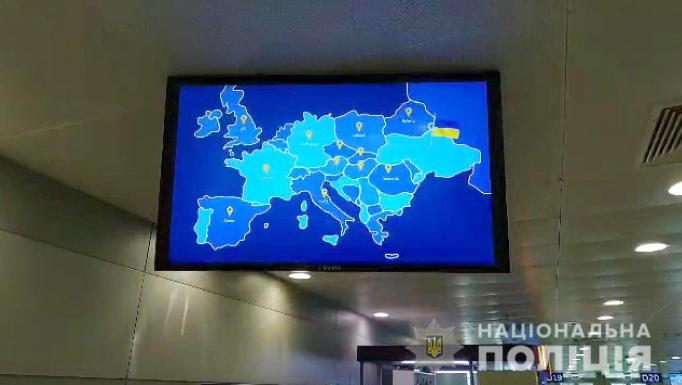 Police opened a criminal case under Part 1 of Article 110 of the Criminal Code / Photo from National Police
Ukraine's Ministry of Information Policy (MIP) has launched a probe into a video showing Ukraine's map without the Autonomous Republic of Crimea, which was played at Kyiv's Boryspil Airport.
"The Ministry of Information Policy of Ukraine reports that the incorrect image of Europe's map in a promotional video, which was shown at Boryspil Airport, was due to a technical failure, as the final version of the video had a map taken from stock images and lacks some parts such as Turkey, the Baltic states, Denmark and Crimea," the ministry said in a statement posted on its website.
Read alsoUkraine's Ambassador: Crimea shown as Russia territory on Google Maps goes against U.S. policy
The video appeared only several times and immediately removed from screening. The correct version of the video has already been provided.
"The MIP has already begun an internal probe into the causes behind this unacceptable failure and will assist the police in every possible way in investigating this incident," the ministry said.
The Ukrainian national police earlier said they had launched a criminal case into the playing of a video at Kyiv's Boryspil Airport that showed the country's map without Crimea.
A passenger informed the police on April 29 that a video with Ukraine's map that did not include Crimea had been shown on displays at the airport.
The police opened the criminal case under Part 1 of Article 110 of Ukraine's Criminal Code (encroachment on the territorial integrity of Ukraine).
"A preliminary investigation has established that a letter regarding the placement of the video at the enterprise [airport] was sent by the Information Policy Ministry," the police said.
Ukraine's Crimea was annexed by Russia in March 2014.