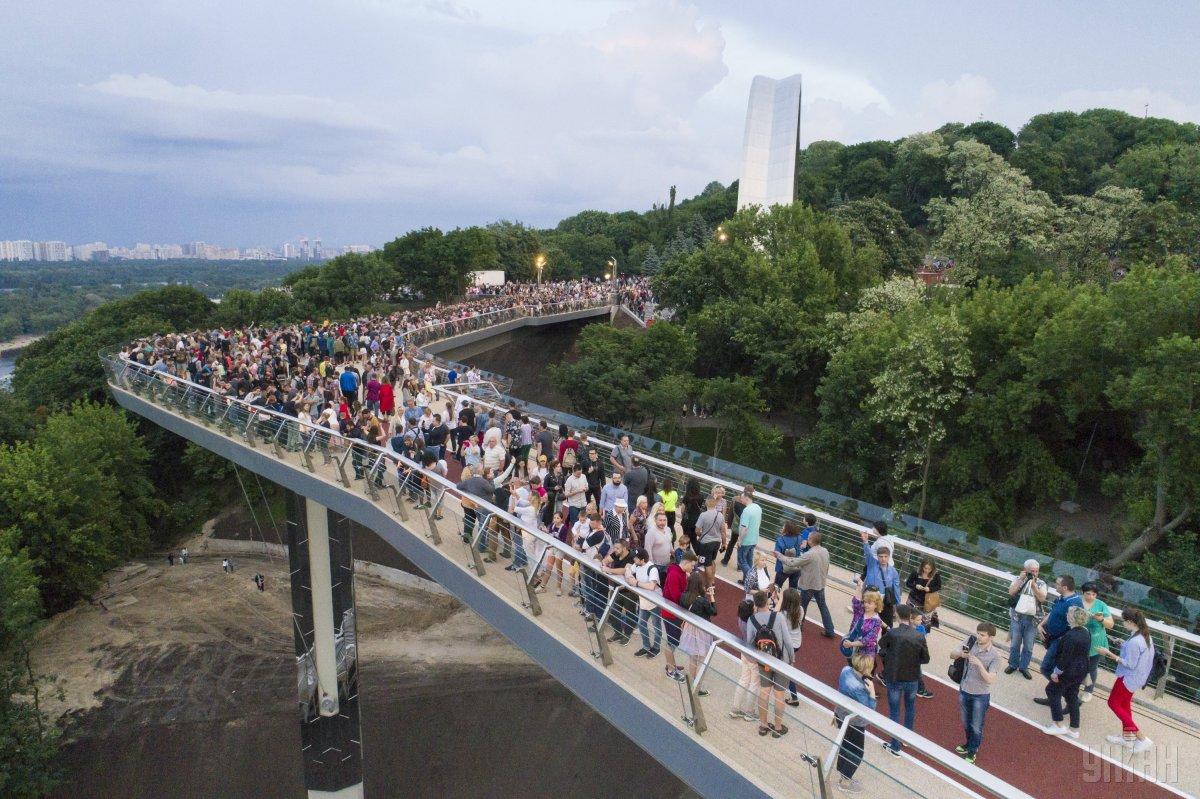 The active phase of the construction project lasted for five months / Photo from UNIAN
Kyiv's new glass bridge linking Saint Volodymyr Hill and the area near the People's Friendship Arch has been closed the next day after opening, as the glass of two panels has cracked.
"Friends! The pedestrian bridge was opened. Yesterday and today, there were thousands of people there. Everything was beautiful and good. A few hours ago today, the glass cracked on two glass panels. Given its thickness and characteristics, it could not have happened without a reason. An act of vandalism is a major theory under consideration," Kyiv Mayor Vitaliy Klitschko said on Facebook on Sunday, May 26.
Read alsoSwiss architects claim Kyiv's new "Klitschko bridge" their project, used illegally
Also, the mayor said that there could be mechanical damage done from the bottom of the glass bridge. "There's a theory that someone has shot at it," he said.
"To say that I am extremely angry is to say nothing! I know that there are many ill-wishers who are against positive changes in Kyiv. But such sabotage is a crime. And the response will be tough! [I] have asked the law enforcement agencies to urgently find out the reasons and give a legal assessment of the incident," he added.
The dtp.kiev.ua portal covering crime and incidents said that the bridge was closed to passers-by. Members of Kyiv City State Administration's Rescue Service are at the scene where the police and rescuers are working.
Later it became known that National Police forensic specialist were also examining the bridge.
The incident was registered in the police registration system and the legal qualification will be given after the thorough examination, the police said.
The bridge was unveiled by Vitaliy Klitschko and his brother Volodymyr Klitschko – both well known boxers – on May 25 to mark Kyiv's anniversary.
The active phase of the construction project lasted for five months. About 1,000 construction workers and specialists were involved. The length of the bridge is almost 212 meters, it is made of concrete and glass.
The mayor said that one square meter of such glass panel is able to carry up to 1,150 kg.
The construction costs is UAH 275 million, or about US$10.4 million.