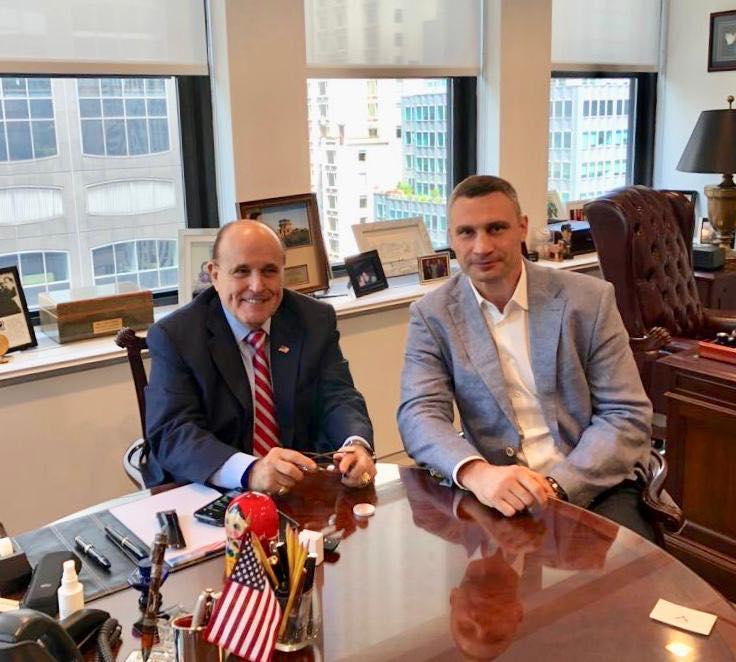 facebook.com/Vitaliy.Klychko
On Wednesday, July 31, Kyiv Mayor Vitaliy Klitschko met with U.S. President Donald Trump's personal attorney, former New York Mayor Rudolph Giuliani.
Klitschko wrote on Facebook that the New York meeting had been held at the invitation of his "old friend and one of the world's most respected mayors, Rudy Giuliani."
The two discussed the situation in Ukraine and the prospects for further cooperation between the two countries. They also talked development of local self-government.
"I am grateful to our country's friends who support and help us, who believe in Ukraine. We agreed next time Rudy and I would meet in Kyiv," Klitschko wrote.
As UNIAN reported earlier, The New York Times said Giuliani, who had intended to arrive in Kyiv and meet with President-elect Volodymyr Zelensky, called off the visit amid harsh criticism of such intention as some media said it sought to attract foreign assistance to Donald Trump's re-election campaign in 2020.
In turn, Giuliani accused the Democrats of trying to distort the purpose of his trip. Earlier, The New York Times reported that Giuliani had allegedly intended to call on Zelensky to continue to investigate in Ukraine the cases that, according to White House allies, could shed more light on the two issues in which Trump was interested.
Read alsoZelensky's office chief seeks dismissal of Klitschko as Kyiv administration head
One of these issues concerns the investigation of Special Counsel Robert Mueller regarding Russian meddling in the 2016 presidential election. Another one concerns the son of former U.S. Vice President Joseph Biden. Hunter Biden was a member of the board of directors of a gas company owned by Ukrainian businessman Mykola Zlochevsky, Burisma Holdings Limited.
The publication noted that the goal of Giuliani's trip to Kyiv was to tar Mueller's investigation and potentially harm Joseph Biden, who is now seen as the Democrats' favorite for presidential nomination.
It should be noted Zelensky's team earlier slammed criticism on Klitschko over his role as head of City Administration, and even urged him to resign from this post. In particular, Head of Ukrainian President Volodymyr Zelensky's presidential administration Andriy Bohdan said Kyiv Mayor Vitaliy Klitschko had confirmed he lost control over the situation in the Kyiv City Council and called on him to step down. A claim was also voiced on Tuesday that someone from among shady businessmen who reportedly exercise influence on Kyiv authorities, allegedly approached Bohdan with a bribe offer, aiming to stop pressure on Klitschko. The claim was not substantiated with any factual evidence.
In a harsh response published later the same day, Klitschko named Zelensky's Office Chief Andriy Bohdan "unprofessional" and a "liar," further heating up tensions.