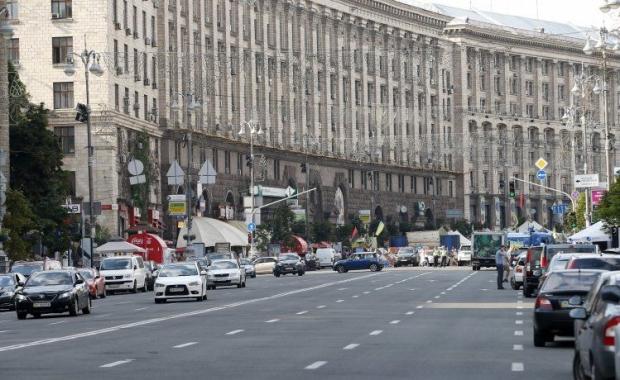 Photo from UNIAN
Kyiv's authorities plan to launch an overhaul Khreshchatyk, a thoroughfare in the capital city's Pechersky and Shevchenkivsky districts.
Read alsoKyiv to start building new animal welfare center in autumn
A large-scale project is being developed to upgrade the street. In particular, Kyivavtodor Municipal Corporation plans to allocate UAH 18 million (US$734,095) under the project, which is less than the previously announced UAH 20 million (US$815,661), the local news portal Informator.ua reported on January 23, referring to the ProZorro e-procurement system.
Khreshchatyk Street is expected to be convenient for cyclists, people with disabilities, mothers with strollers, and pedestrians. A bicycle path may also be arranged there. New tiles or paving stones will replace the old pavers on the sidewalks, while asphalt on the roadway will be changed.
It is also planned to set illuminated house numbers on facades of buildings and upgrade the street lighting system. Tactile paving will be used to guide vision-impaired people. Kyivavtodor also announced the replacement of all waste containers on the street and installment of bollards to prevent vehicle-ramming, in particular, at all bus stops.
Road workers are not going to completely block the street. The traffic will be partially limited in the daytime and completely at night.