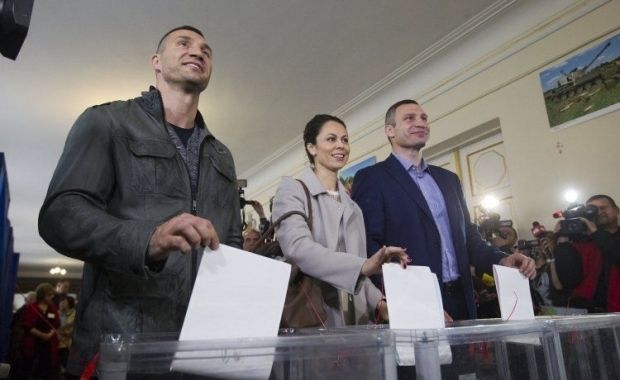 The Klitschkos at a polling station / Photo from UNIAN
The poll was conducted by the Social Monitoring organization at the CVU's request.
Livy Bereh portal at lb.ua published simultaneous counts of votes by Solidarnist, in keeping with which Klitschko received 41.1%, Bondarenko got 9.7%, and Serhiy Gusovsky, a member of Kyiv City Council, leader of the Samopomich faction at Kyiv City Council and a restaurateur, was third with 8.7%.
At the same time, the results of the exit poll conducted by the Savik Shuster Studio show that Klitschko ranked first with 38.40%, Gusovsky was second with 9.20%. The third place was occupied by Borislav Bereza, the leader of the Rishuchi Hromadiany (Resolute Citizens) Party with 8.50%, while Bondarenko ranked only fourth with 8%.
Twenty-nine nominees were participating in the mayoral elections in Kyiv on October 25.