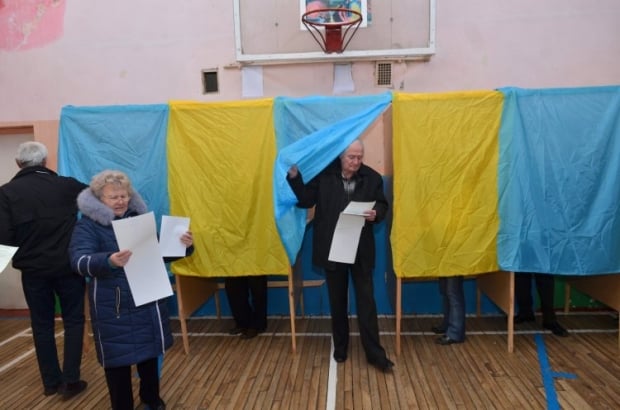 An average voter turnout during the Sunday tlocal elections in Ukraine is low / Photo from UNIAN
"A voter turnout in the city of Kyiv is 20-22%. This is a rough, unofficial figure," he told UNIAN on Sunday.
A voter turnout in Lviv region, western Ukraine is 37%. "As of now, 37% of voters have come to the polling stations," head of Lviv Regional State Administration's administrative department Fedir Aleinikov told UNIAN. "Lviv region's Sokalsky district is leading in terms of the turnout, whereas the regional center sees a lower than average figure. A 50% turnout is expected."
"At 16:00, a voter turnout in Sumy was about 33% on the average, or 77,183 voters. Depending on the district, the figure is varying between 30% and 35%," member of Sumy Regional Election Commission Roman Petrenko said.
Cherkasy's City Election Commission told UNIAN that 29.8% of voters had come to the polling stations as of 16:00 local time. This is a record low level for Cherkasy. Young people have virtually ignored the local elections, the commission said.
Director of Cherkasy Regional State Administration's information and communication department Serhiy Pasechnik predicts that the turnout in Cherkasy region will not exceed 45-50%.
A voter turnout in Khmelnytsky region as of 16:00 was 33%, according to data provided by territorial election commissions. The highest number of voters came to polling stations in Bilohirsky and Starokostiantynivsky districts – more than 50% and 47%, respectively.
However, the Khmelnytsky Regional Committee of Voters of Ukraine (CVU) said that the indicator was a record low. Previously, voters there were much more active. The CVU also reported that there had been no substantial violations during the voting process.
A voter turnout in Ternopil region was 33.13% as of 15:00 local time.
Deputy Chairman of Ternopol Regional State Administration Viktor Shumada told UNIAN that the highest turnout figures were in Lanevetsky district (39.39%), Shumsky district (38.03%) and Monastyrisky district (37.48%). The lowest turnout was in Berezhansky district (29.4%) and the town of Chortkiv (29.6%).
A voter turnout in the city of Ternopil as of 15:00 local time was 30.1%.
In the city of Ivano-Frankivsk, a total of 35.29% voters had come to the polling stations by 16:00 local time, according to observers from NGO OPORA.