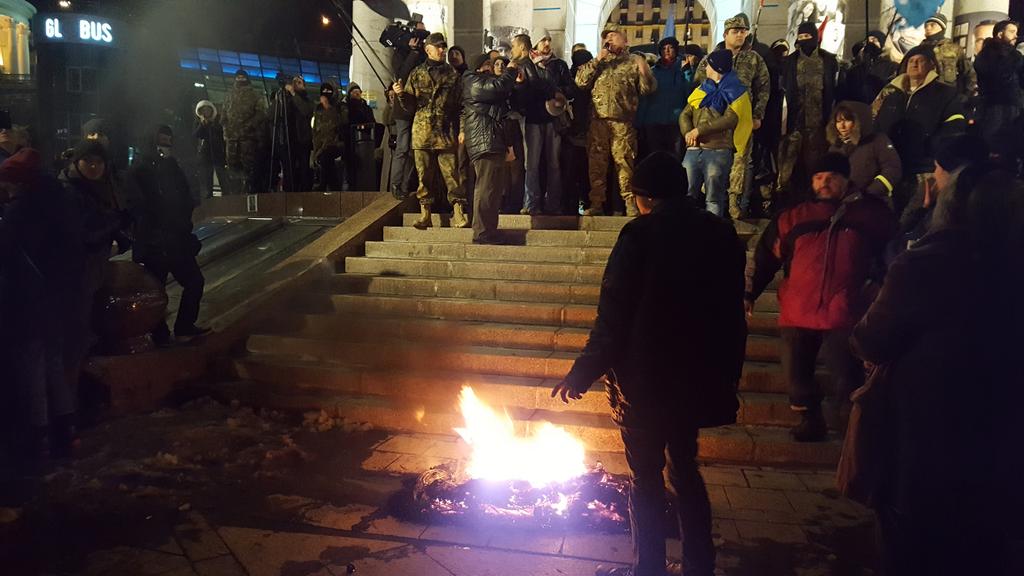 Car tires are again set on fire on Kyiv's Maidan / Photo from twitter.com/berdynskykh_k
About 1,000 people have gathered on Kyiv's Independence Square, or Maidan Nezalezhnosti, an UNIAN correspondent reported.
There are two epicenters of activity – near the Stele of Independence and on the part of the square, across Khreschatyk Street.
People who have gathered near the Stele are holding flags of the Organization of Ukrainian Nationalists (OUN) and the Popular Rukh movement. One can hear recordings with patriotic songs and listen to activists' speeches.
A similar picture can be seen across the street. Yet, there is live music there, as a folk group has been singing folk songs. At break, speakers discuss political topics, calling the public not to disenchant with the Revolution of Dignity and continue the struggle.
No organized groups of protesters have been seen on the Maidan though. But later, some participants in the anniversary events said they wanted to bring car tires onto the square through a cordon of police, which has resulted in clashes with police officers. Some of the participants set tires on fire near the Stele.
Read alsoSecurity in Kyiv to be beefed up for events to mark Euromaidan anniversary
Later there was another outbreak of violence in the center of Kyiv when several hundred unidentified people attempted to attack an office near the Ukrainian capital's Leo Tolstoy Square, which is said to belong to Ukrainian politician, chairman of the pro-Russian political organization Ukrainian Choice Viktor Medvedchuk, according to news agency RBC-Ukraine.
Russian President Vladimir Putin is the godfather of Medvedchuk's daughter. Medvedchuk is also an active negotiator at Minsk peace talks on Donbas, dealing mainly with swaps of prisoners of war.
As TV news service TSN reported, the people are said to have come from the Maidan Nezalezhnosti to the Leo Tolstoy Square. The column of activists carrying blue and yellow and red and black flags was escorted by a large number of police officers. About two hundred people reportedly stayed on the Maidan.
The activists broke the door and windows of Medvedchuk's office and lit flares, according to Hromadske.TV. The police and the National Guard did not interfere at the beginning. Then they cordoned off Medvedchuk's office. Ignited flares were put out.
OUN leader Mykola Kokhanivsky called those present to prevent violence, as some of the Guardsmen could have been defenders of Ukraine in Donbas.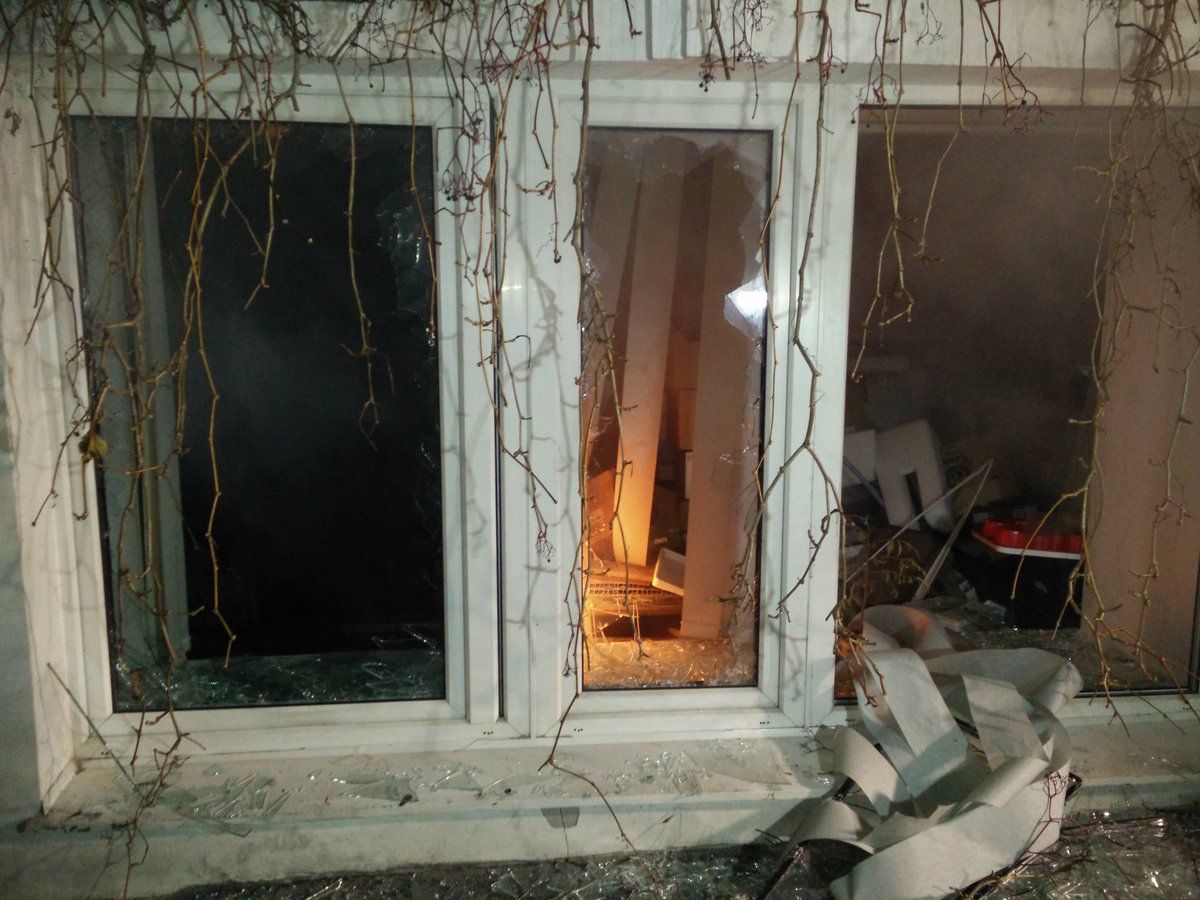 Windows in Medvedchuk's office have been broken / Photo from @PAndrusieczko