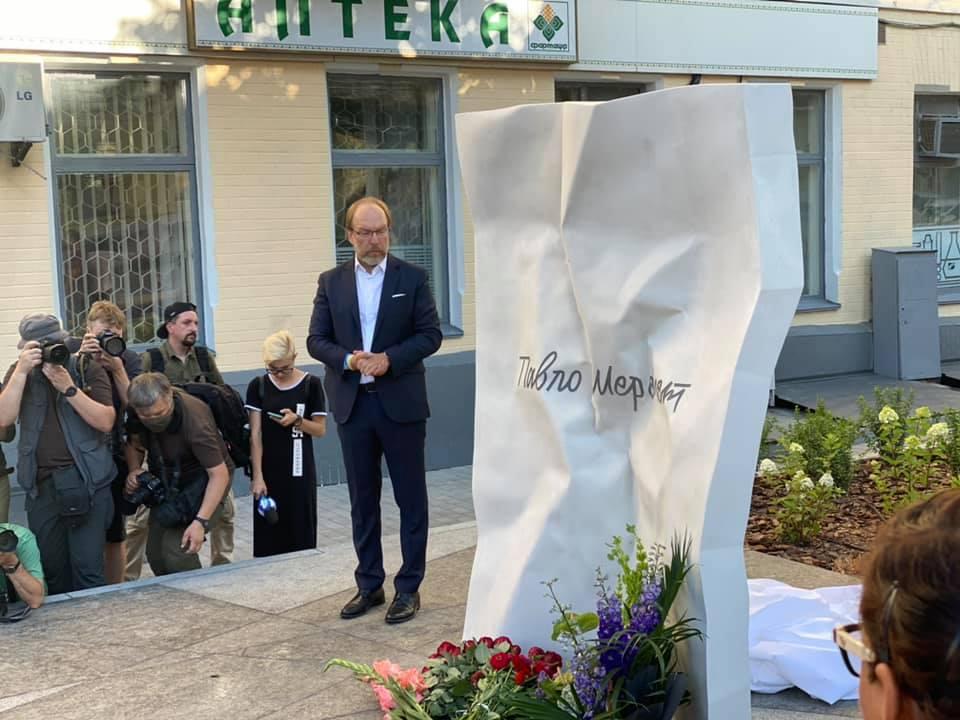 The memorial sign is designed by famous Ukrainian sculptor Nazar Bilyk / Photo from facebook.com/MasiNayyem
A memorial sign to honor Pavel Sheremet on the fourth anniversary of his murder was unveiled at the intersection of Bohdan Khmelnytsky and Ivan Franko Streets in Kyiv on Monday, July 20.
The memorial is made in the form of a symbolic white sheet of paper on which the journalist's name is inscribed, according to the TSN.Ranok TV program.
Read alsoRFE/RL: Kyiv court eases pretrial restrictions for suspect in killing of journalist Pavel Sheremet
Also, there are the following words at the bottom: "The journalist died at this site on July 20, 2016."
At 07:45 (the time when his car exploded) on the morning of July 20, 2020, the journalist's former co-workers and friends started to gather at the scene. They laid flowers at the memorial sign.
According to the Ukrayinska Pravda media outlet, the memorial sign is designed by famous Ukrainian sculptor Nazar Bilyk.
As UNIAN reported earlier, Sheremet was assassinated in a car blast in the center of Kyiv on the morning of July 20, 2016.
On December 12, 2019, police said they suspected five persons of complicity in the crime: former Donbas war volunteer and musician Andrii Antonenko, army volunteer and pediatric surgeon Yulia Kuzmenko (nom de guerre "Lysa," or "Fox"), nurse with a paratrooper unit Yana Duhar, and a family couple of army volunteers Inna Hryshchenko ("Puma") and Vladyslav Hryshchenko ("Bucha"). Law enforcers claim that the goal of the Sheremet assassination was to destabilize the social and political situation in Ukraine. Antonenko, Kuzmenko and Duhar were notified of suspicion on December 12, 2019.
Ukrainian investigative journalists with the Slidstvo.info project said they had found the forensic analysis report used in the probe into the murder of Sheremet far from being unambiguous, while evidence presented by the police was unconvincing. What is more, many Ukrainian activists consider the proof collected by the investigators to be insufficient.