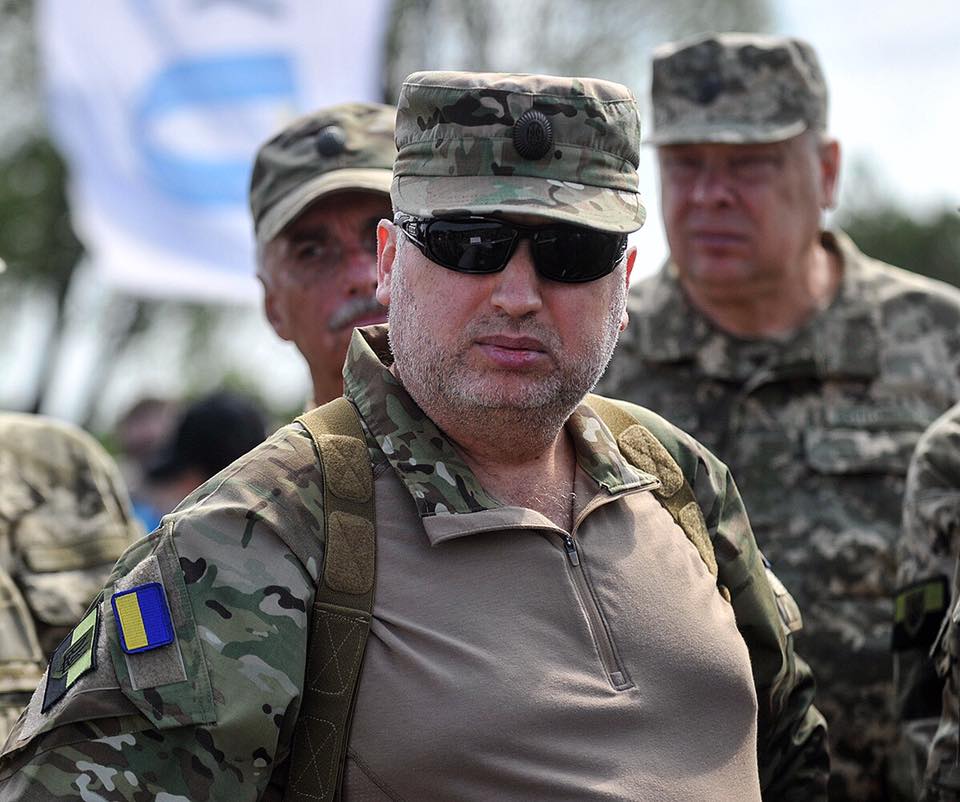 facebook.com/oleksandr.turchynov
Secretary of the National Security and Defense Council (NSDC), Oleksandr Turchynov, who served as acting president of Ukraine from Feb 23 to Jun 7, 2014, says Ukraine never declared war on Russia despite Moscow's ongoing military aggression because it is unable to defend itself effectively in case of a full-scale war with a nuclear power.
Read alsoDonbas reintegration law not to rule out liberation of occupied territories by force – NSDC secretary Turchynov said Thursday, testifying in the Viktor Yanukovych treason case, an UNIAN correspondent reported from a courtroom at the Obolonsky district court of Kyiv.
"Indeed, war is declared amid military aggression. The problem is that, unfortunately, after Ukraine's complete nuclear disarmament following the signing of the Budapest Memorandum, today there is no weapon in Ukraine capable of resisting a nuclear power, which Russia is," he said.
"We don't have the military means to counter the nuclear power in case they employ the entire arsenal of their weapons, and that is why… both in February-March 2014, and, unfortunately, now that we have a combat-capable army, defense industry, weapons sufficient to protect the country, unfortunately, we cannot declare war on the aggressor," Turchynov added.
Read alsoMessage claiming Kyiv "abandoned" Crimea in 2014 political manipulationAccording to him, following consultations with Ukraine's partners, guarantors of the country's security after it had renounced its nuclear weapons, it turned out that "they can support us only at the diplomatic, not military, level."
Turchynov underlined that the Budapest Memo actually turned out to be "a fake".
"That's why we could not declare war on a nuclear power, since the nuclear power was ready for such war, and its armed forces were ready to invade, but Ukraine could not defend itself in case of a full-scale war at the time," the NSDC secretary stressed.
As UNIAN reported earlier, on Jan 15, 2018, Russian Foreign Minister Sergey Lavrov said that it was Ukraine who violated the Budapest memorandum by allowing the Maidan uprising, not Russia, which "never used" nuclear weapons against the Ukrainian state.
Head of the Russian Foreign Ministry claims that Russia continues to "respect" Ukraine's territorial integrity.
UNIAN memo. In 1994 Ukraine renounced its nuclear weapons. After that, also in 1994, Ukraine, the United States, Russia and UK signed a Memorandum of Security Assurances in connection with Ukraine's accession to the Nuclear Non-Proliferation Treaty (Budapest Memorandum).
The document contains provisions guaranteeing Ukraine's sovereignty and security.
According to the Memorandum, the United States, Russia, and UK committed, in particular, to respect Ukraine's independence, sovereignty and existing borders; refrain from the threat of force and application of force against the territorial integrity and political independence of Ukraine.
Subsequently, the two other nuclear powers, China and France, expressed similar guarantees to Ukraine in the form of statements.
However, in March 2014, after the introduction of troops, Russia occupied the Ukrainian Crimea and began destabilizing the situation in Donbas.
The Russian Federation has been supplying the so-called "DPR" and "LPR" terrorists with weapons and live force, deploying mercenaries and regular troops to Donbas.
The fighting has been ongoing in Luhansk and Donetsk regions since mid-April 2014.