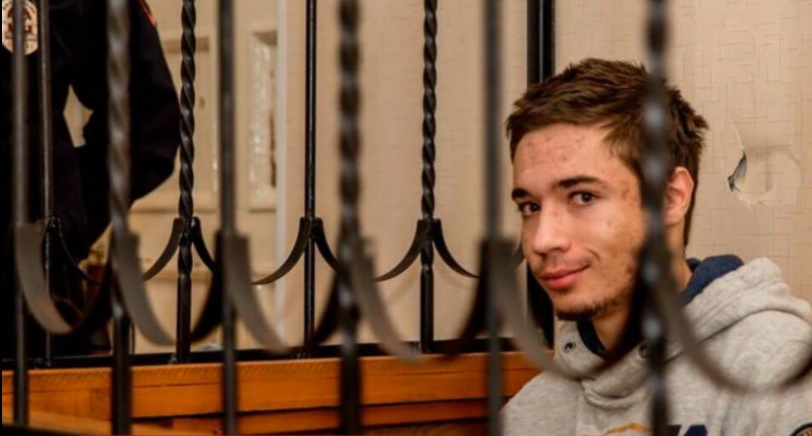 Screenshot from video
Father of Pavlo Hryb, the Kremlin prisoner held in prison pending trial on trumped up "terrorism" charges, is gravely concerned over his son's life, saying Pavlo's condition has deteriorated.
For the first time over the past three months, a Ukrainian Consul was allowed to meet with the teenager and saw how much weight the detainee had lost over the period. The young man also complained over stomach ache, TSN news service reports.
The captive has not been receiving proper treatment, but the penitentiary administration refuses to allow Ukrainian doctors to visit him, just as they fail to give to Pavlo the medications he requires. During the meeting, with the diplomats, Pavlo was for the first time allowed to speak Ukrainian, but the visitors were forbidden to ask him about conditions in the penitentiary and the course of investigation.
"We try to do everything possible, we try to apply all possible state instruments, but unfortunately, all these appeals are being ignored by the Russian Federation... We will continue because we have no other choice. If he gets no help at all while he's at the pre-trial detention center he won't get out of there alive," said the teenager's father, Ihor Hryb.
Read alsoUkraine's Foreign Ministry protests against ban on doctors' visit to Ukrainian teen in Russian jailAs UNIAN reported earlier, a member of the State Border Guard Service's public council, Ihor Hryb, announced on August 28, 2017, that his 19-year-old son, Pavlo Hryb, had gone missing.
Pavlo reportedly disappeared in Belarus on August 24, after he had traveled to the city of Gomel for a meeting with a Russian girl whom he met on social networks and who had allegedly also flown to Gomel. The youngster's father said Pavlo was supposed to return on the same day. When it did not happen, the father went to Gomel in search of his son.
He found out that Pavlo was wanted by the FSB in Krasnodar Krai (Sochi) under Article 205 of the Criminal Code of the Russian Federation (an act of terrorism).
Read alsoСapture of Ukrainians by Russian special services instrument of "hybrid" war - British MPLater it became known that Russian investigators had accused Pavlo Hryb of allegedly plotting a terrorist attack at a school assembly in Sochi. On September 13, a court in Krasnodar ruled to arrest Pavlo Hryb until October 17.
Pavlo Hryb is diagnosed with portal hypertension, which requires a daily intake of necessary medications and a special diet, without which there is a risk of death. Ukrainian doctors were denied a visit to Pavlo at the detention center.
On December 15, the teenager's arrest was extended until March 4, 2018.
On February 1, his father voiced concerns over Pavlo's health condition.