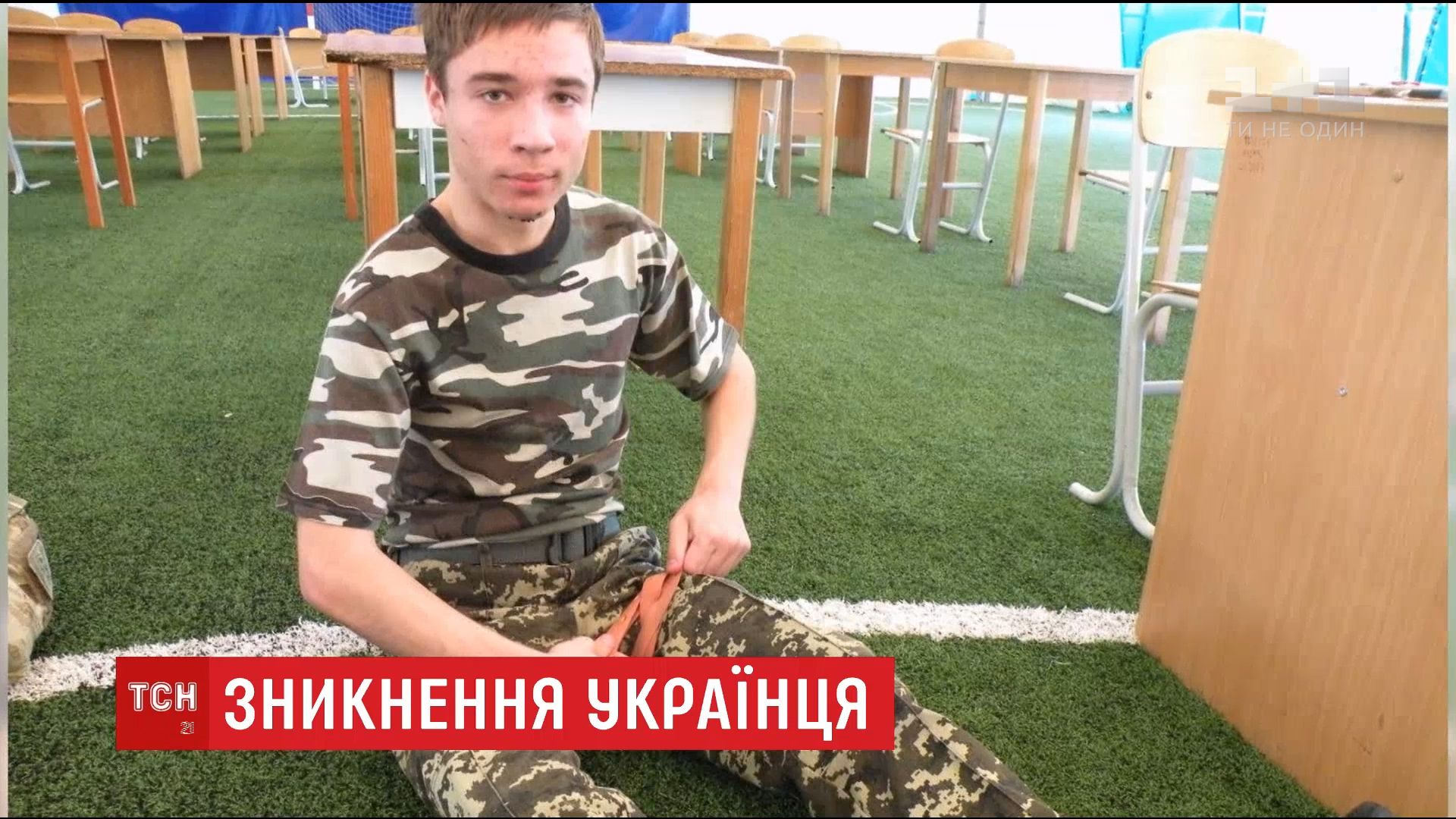 Screenshot from TSN news report
Pavlo's father has earlier told UNIAN his son has been detained by FSB operatives in the Belarusian city of Homel where he had arrived by charter bus on Ukraine's Independence Day, August 24, to meet with a girl whom he supposedly met on the internet.
It has now been established that he had crossed the Ukrainian-Belarusian border unhindered. The contact with the Ukrainian has been lost since then. The missing teenager's father says Homel police told him his son was wanted by FSB office in Krasnodar Krai region, reportedly in a terrorism-related case.
Read alsoSBU names number of Ukrainian hostages in Russia, occupied DonbasThis information has not yet been formally confirmed.
The Ukrainian Consul in Minsk has already reported that Pavlo was not among those kept in custody in any of the Belarusian pre-trial detention centers.
The young Ukrainian's father believes that his son was snatched by FSB over his patriotic views, vocally expressed in social networks.
Through social networks TSN journalists found a girl whom Pavlo met in Homel. She turned out to be a 17-year-old resident of the city of Sochi in Russia's Krasnodar Krai region.
In an interview with TSN, she confessed that she had invited the teenager to come to Belarus after being forced to do so by the FSB operatives in Russia. According to the girl, she is also under investigation by Russian security forces in a terrorism-related probe, apparently just as Pavlo.
"It was all a set-up. I've been sent to Belarus by blackmail. We talked [with Pavlo] about stuff like nationalism or something like that. Well, actually, a case was also opened against me over my [online] conversation with him back then and... I can't tell you about that because I've signed non-disclosure papers," the girl told TSN.
Read alsoSBU: Russian secret services try to covertly use ATO soldiers to discredit UkraineAccording to Prosecutor General's press secretary Larysa Sargan, the prosecutor's office in Ukraine's Chernihiv region is supervising an investigation as regards the missing Ukrainian citizen under Article 115 of the Criminal Code of Ukraine (premeditated murder).
As UNIAN reported earlier, Head of the SBU Security Service of Ukraine (SBU) Vasyl Hrytsak said that Russian intelligence services had plotted to use three former ATO troops as potential "executors" of terrorist acts in Moscow, without their knowledge, in an operation aimed to discredit Ukraine on the international arena.
Earlier, provocations involving arrests of Ukrainian "saboteurs" were reported in the annexed Crimea and occupied Donbas. The SBU said that such fabricated reports by Russian intelligence and security agencies are intended to intimidate population.
Information Resistance volunteer community has earlier reported that the Kremlin is plotting large-scale terrorist attacks in order to accuse Ukraine and initiate the hot phase of war in Donbas.
As UNIAN wrote earlier, a total of almost 13,000 Russian and Belarussian servicemen and almost 700 pieces of military hardware will be used in the joint Russian-Belarusian Zapad 2017 military exercises next month.
During a Kyiv visit of Belarusian President Alexander Lukashenko to Kyiv July 21, Ukrainian President Petro Poroshenko said he was reassured by his Belarusian counterpart that the territory of Belarus "would never be used for aggressive actions against Ukraine and the Ukrainian-Belarusian border would never be a border of war."