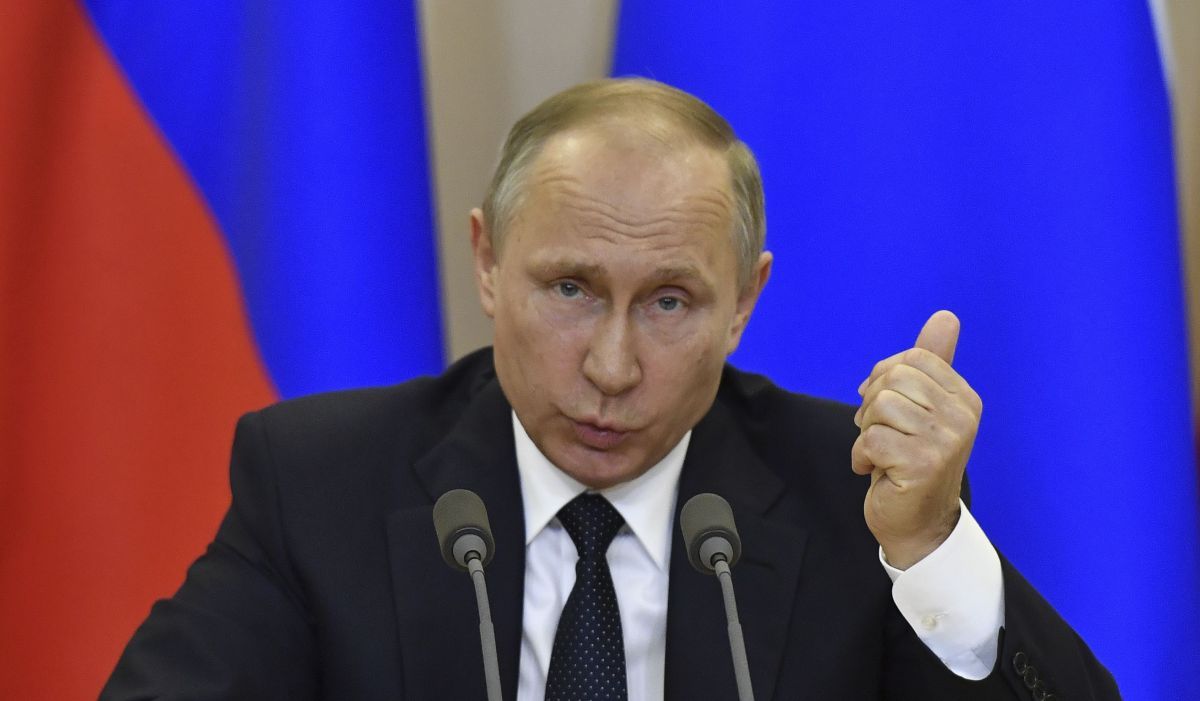 REUTERS
Speaking at a joint press conference with Austrian chancellor Sebastian Kurz on Wednesday, Russian President Vladimir Putin says that Russia "is not against" putting the occupied Donbas under international control.
The Russian president claimed that Russia had initiated the idea of deploying a UN mission in eastern Ukraine, although it was first put forward by President of Ukraine Petro Poroshenko, an UNIAN correspondent in Russia reports.
Read also"Up to 30,000 peacekeepers": presidential envoy on size of possible mission in Donbas"All I had to do was publically support and submit a resolution [to the UN Security Council], but when we did so, it turned out that this was not enough," Putin said.
He asserts that now it is being proposed to extend the peacekeeping mission over the entire territory of Donbas, while initially, in Putin's vision, it was about ensuring OSCE observers' safety on the line of contact.
"And we proceed from the fact that this is enough for the UN mission to fulfill this role. Initially, it was Ukraine who raised the question of arming the OSCE staff for the purpose of ensuring safety, and we agreed. The OSCE refused, referring to the fact that it has neither such experience nor people who could do it [use arms]. And thirdly, there are fears that as soon as OSCE personnel take up arms, they will be a target for both conflicting parties," Putin said.
The Russian president said that another idea had been voiced in this regard - to put a UN mission alongside the OSCE to ensure their safety, and then in one of the telephone conversations with German Chancellor Angela Merkel suggested that peacekeepers be on the Ukraine-Russia border.
Read alsoPoroshenko rejects Belarus involvement in Donbas peacekeeping mission - media"I said yes, you are probably right. Let them be there, too, when they accompany the OSCE staff, that is, ensuring their safety. We went for it. But this also appeared to be not enough," he said.
"Now they say: no, they need to be deployed everywhere. That is, in fact, it is about putting all this territory under international control. Is Russia for or against this?  At least we don't mind. But this needs to be negotiated with these unrecognized republics. Go on and agree with them. But no, no one wants to do this," Putin said.
The Russian president said there were no examples in international practice, where a settlement had been reached without involving one of the conflicting parties.
Read alsoFinland urges wider EU participation in Ukraine peacekeeping force - Reuters"There is no such practice worldwide, but, unfortunately, no one wants, or, today's Kyiv authorities don't want direct dialogue [with militants], as envisaged by the Minsk agreements," Putin said.
As reported earlier, on October 19, 2017, Putin said that Russia would not allow the closure of the border with the occupied Donbas to prevent "massacre".