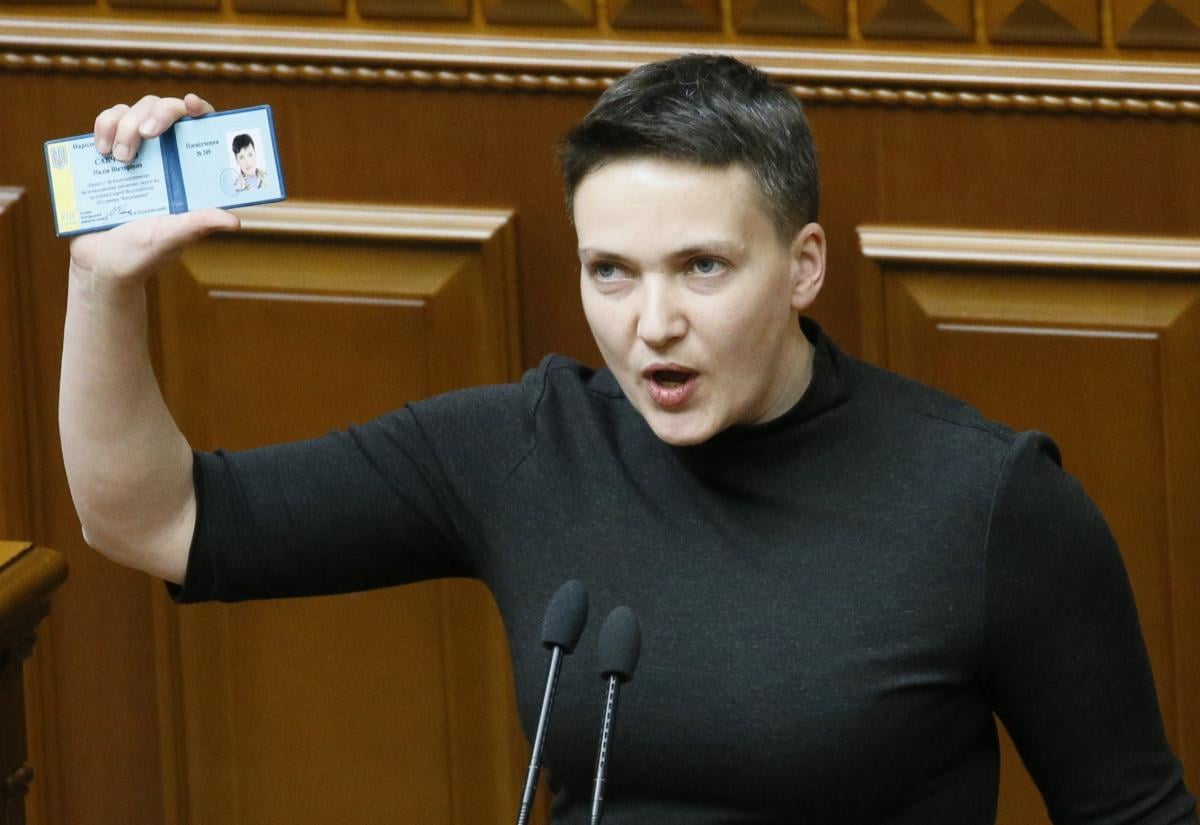 Savchenko in parliament, holding an MP's card / REUTERS
Member of Parliament Nadiia Savchenko, who was detained on March 22, will stay at the SBU Security Service's building overnight; her lawyer Viktor Chevguz says the detention was unlawful.
"It should be noted that the detention of Savchenko was illegal because Clause 1 of Article 208 foresees that a person shall be detained if he or she was caught at the crime scene or immediately after crime. All of you know she was detained in the Verkhovna Rada's building and she had committed no crime there or after. Therefore, of course, my colleague and I immediately wrote that the detention was unlawful," the lawyer told journalists near the Kyiv-based SBU building, where Savchenko was interrogated on that day.
Read alsoRada strips MP Savchenko of parliamentary immunity, allows arrest
The defense will file objections to an arrest warrant. "They gave us 240 pages of materials attached to the warrant. We'll work with my colleague all night to file the objections tomorrow," Chevguz said.
The other lawyer, Dmytro Buhai, said that Prosecutor General Yuriy Lutsenko handed the indictment over to Savchenko in person at about 14.30 Kyiv time on March 20. Asked how Savchenko felt at that moment, Buhai replied: "She keeps cool."
According to him, Savchenko will spend the night in the premises of the Security Service, where she was interrogated.
As UNIAN reported, the Verkhovna Rada on March 22 gave the greenlight to Savchenko's arrest. Savchenko is charged with committing a crime under Part 1 of Article 109 (actions aimed at the forcible change or overthrow of the constitutional order or seizure of state power); Part 1 of Article 14 (preparations for a crime), Part 2 of Article 28 (committing a crime by a group of persons, a group of persons by prior agreement, an organized group or a criminal organization), Article 112 (an attempted attack on the life of a public figure), Part 3 of Article 258 (an act of terror); Part 1 of Article 258-3 (creation of a terrorist group or organization) and Part 1 of Article 263 (illegal possession of weapons, ammunition or explosives) of the Criminal Code of Ukraine.
Lutsenko signed the indictment at the SBU's office in Kyiv and Kyiv region.
According to spokesman for the Prosecutor General's Office Andriy Lysenko, hearings on a preventive measure for Savchenko will most likely take place at Kyiv's Shevchenkivsky district court on March 23. They will begin at about 9:00 Kyiv time, Buhai said.
Lutsenko's press secretary Larysa Sargan said, in turn, that prosecutors would ask the court to remand Savchenko in custody for two months.
Savchenko was given a copy of the petition for the preventive measure of pretrial detention.