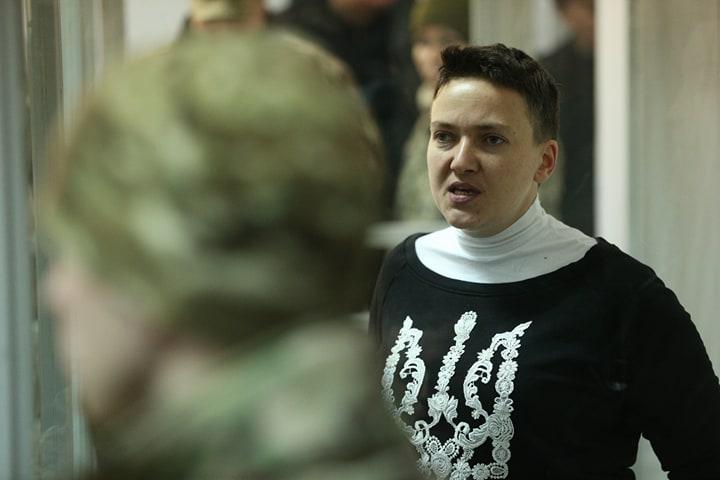 Photo from UNIAN
Member of Parliament Nadiia Savchenko, a former Ukrainian pilot released from a Russian prison as part of an exchange of prisoners of war, has been arrested by a Ukrainian court for 59 days without bail on charges of plotting a coup and an act of terror in Ukraine.
The ruling was read out by judge of Kyiv's Shevchenkivsky district court Yevhen Sidorov, an UNIAN correspondent said.
"The motion filed by the Prosecutor General's Office for a preventive measure in the form of arrest of the suspect, Savchenko, shall be satisfied. The preventive measure in the form of custody without bail shall be applicable to Savchenko, who should be arrested in the courtroom," the ruling said.
The ruling determines that the arrest shall last 59 days, until May 20, 2018, and this decision may be appealed in a court of appeals within five days since the date of its announcement.
When reading out the ruling, the judge noted that life imprisonment is foreseen for one of the crimes Savchenko is charged with. Besides, the judge warned that Savchenko's status of a people's deputy allows her to freely move through the contact line in Donbas and she has personal relations with the leaders of terrorist organizations there, thus, she might escape from pretrial investigation.
The judge also said that the investigators had not yet completed investigative actions: not all circumstances, including the place where instruments of crime are being stored, had been established and not all persons involved in the crimes had been identified.
Read alsoSavchenko may face life imprisonment
The fact that Savchenko possesses a firearm was another reason to keep her behind bars, the judge said.
As UNIAN reported, the Verkhovna Rada on March 22 gave the greenlight to Savchenko's arrest. Savchenko is charged with committing a crime under Part 1 of Article 109 (actions aimed at the forcible change or overthrow of the constitutional order or seizure of state power); Part 1 of Article 14 (preparations for a crime), Part 2 of Article 28 (committing a crime by a group of persons, a group of persons by prior agreement, an organized group or a criminal organization), Article 112 (an attempted attack on the life of a public figure), Part 3 of Article 258 (an act of terror); Part 1 of Article 258-3 (creation of a terrorist group or organization) and Part 1 of Article 263 (illegal possession of weapons, ammunition or explosives) of the Criminal Code of Ukraine.
Savchenko announced in the courtroom she would go on hunger strike. She assured she did not plan to flee Ukraine.