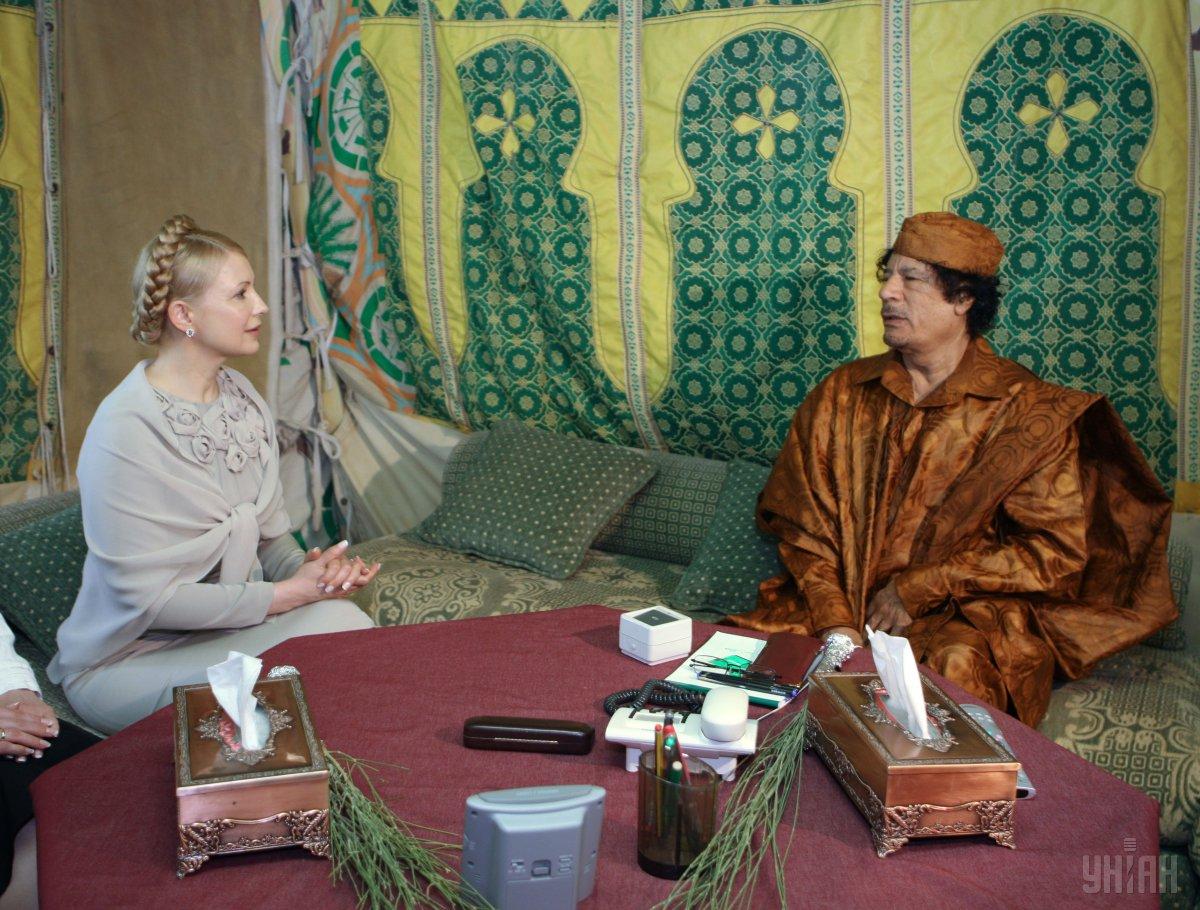 Tymoshenko and Gaddafi in Libya in 2009 / Photo from UNIAN
The National Anti-corruption Bureau of Ukraine (NABU) has launched a probe into media reports claiming that the regime of the former Libyan leader, Muammar al-Gaddafi, could be involved in financing a presidential campaign in favor of Yulia Tymoshenko in 2010.
"Having considered your request, NABU agents have started a probe during which additional information on this issue has been requested in accordance with the procedure established by law," NABU said in an answer to a request filed by Member of Parliament from the Petro Poroshenko Bloc parliamentary faction and Vice President at PACE Volodymyr Ariev.
Similar inquiries were filed by other lawmakers, NABU said.
Read alsoNABU chief Sytnyk denies feud with another anti-corruption agency
NABU informs that a decision will be made in accordance with Article 214 of the Code of Criminal Procedure of Ukraine if its agents "reveal signs of a criminal offense that falls within NABU's jurisdiction."
"The question is whether relevant inquiries will be sent to the law enforcement agencies of Libya to obtain information from the living members of the Gaddafi family," Ariev commented in a Facebook post in which he shared NABU's response.
As UNIAN reported earlier with reference to a London-based Arabic newspaper, Asharq Al Awsat, at least EUR 4 million was allegedly allocated for the Tymoshenko campaign.
One of the closest aides of Gaddafi's son Seif al-Islam revealed that he himself had delivered the funds for her campaigns. "I had them in a briefcase and I traveled to Ukraine on a private jet. I arrived at Kyiv airport and delivered the case to the deputy prime minister," he said.
According to RFE/RL, a batch of EUR 500 notes was ordered by the-then Prime Minister of Libya, Baghdadi al-Mahmoudi (now serving a prison sentence in Tripoli). In a comment to RFE/RL, Tymoshenko's press secretary Maryna Soroka said: "This information does not correspond to reality, this is all untrue."