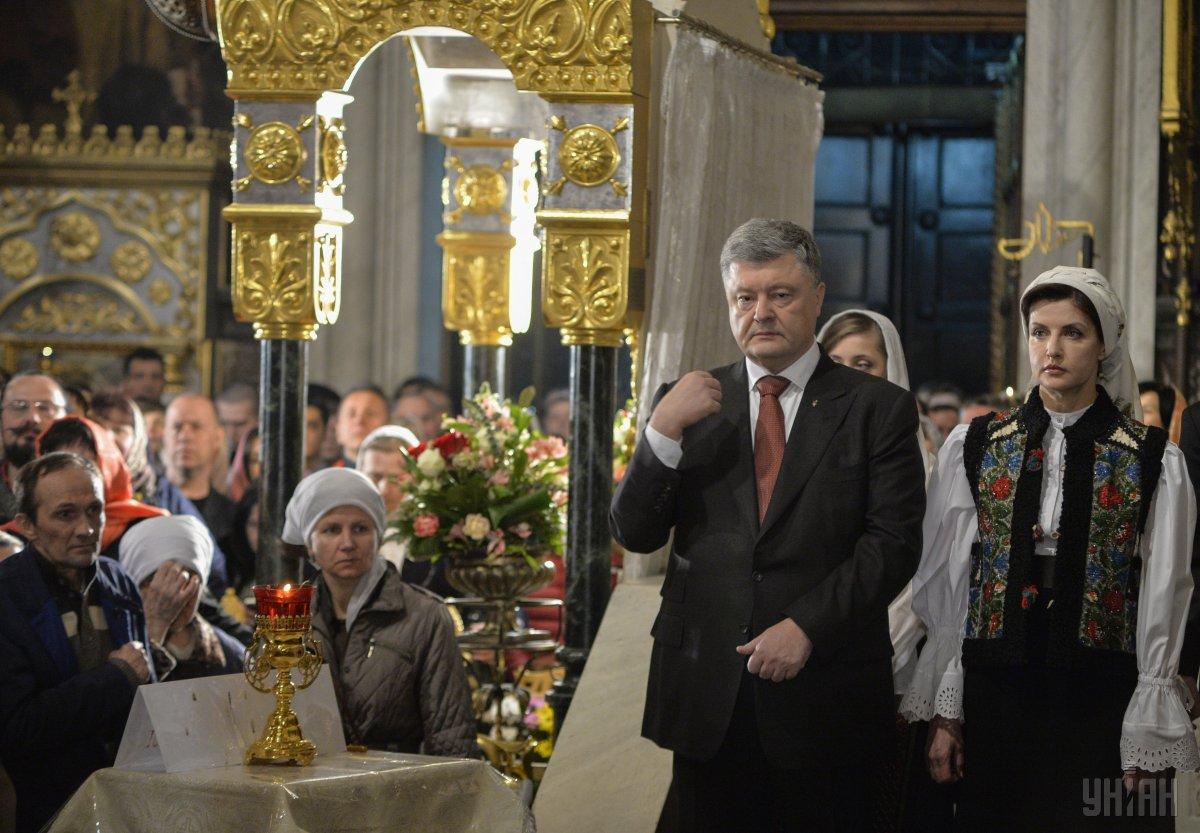 Photo from UNIAN
Ukrainian President Petro Poroshenko has said Russian Patriarch Kirill is not authorized to veto a decision by the Ecumenical Patriarch on autocephaly the Ukrainian Orthodox Church is seeking.
"Nobody, including Kirill, has the veto on the decision of the Ecumenical Patriarch. He doesn't ask for permission from Kirill, he is holding consultations on this issue," Poroshenko told a Svoboda Slova [Freedom of Speech] talk show on Ukraine's ICTV channel, answering a question whether Patriarch Kirill could stop the process of granting the Tomos of Autocephaly to the Ukrainian Orthodox Church, the president's press service reports.
Read alsoUOC of Moscow Patriarchate: Ecumenical Patriarchate to discuss autocephalous church in Ukraine
Poroshenko stressed he had not spoken to the Patriarch of the Russian Orthodox Church since the beginning of Russian aggression against Ukraine.
"I would like to emphasize separately that it would be an ideal scenario for me that along with Patriarch Bartholomew of Constantinople, all the Orthodox Churches, including the Russian Patriarch, confirm our autocephaly," Poroshenko said.
"This is the only way [for Russia] to clean itself at least somehow from the anger and sins committed by Russian military, propagandists and sometimes, unfortunately, Russian priests on the territory of Ukraine," the president said, adding he believed it could happen. "The God works wonders," Poroshenko added.
As UNIAN reported earlier, Poroshenko announced on April 17 that the heads of the Ukrainian Orthodox Church of the Kyiv Patriarchate and the Ukrainian Autocephalous Orthodox Church had decided to officially appeal to Archbishop of Constantinople and Ecumenical Patriarch Bartholomew I for autocephaly.
Autocephaly is the status of a hierarchical Christian Church whose head bishop does not report to any higher-ranking bishop (used especially in Eastern Orthodox, Oriental Orthodox and Independent Catholic churches).
Autocephaly opens the way for the creation of a United Orthodox Church in Ukraine, which will not be subordinate to Moscow.
The split between the Moscow and Kyiv branches of the Ukrainian Orthodox Church happened during the collapse of the Soviet Union, when Ukraine's Primate Filaret broke with the Russian Orthodox Church. He argued that an independent Ukraine deserved a national church truly independent of Moscow. The Moscow Patriarchate whose parishes prevail in Ukraine has never recognized the Ukrainian Patriarchate.