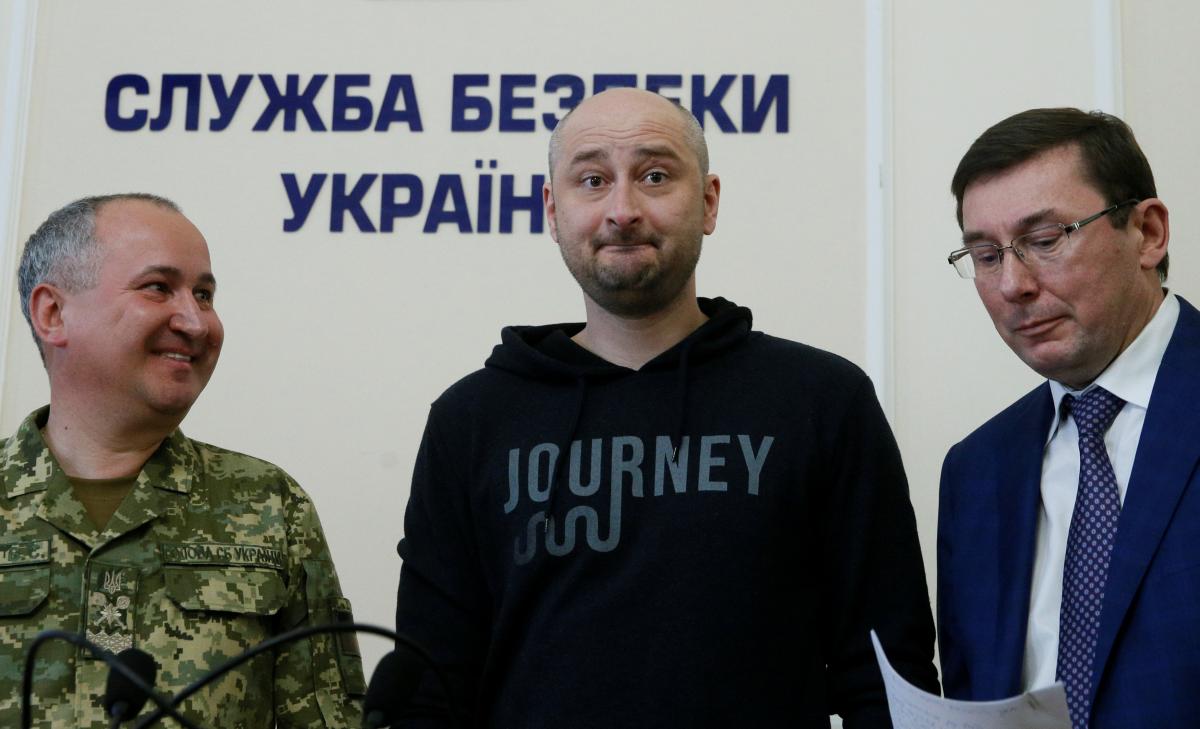 REUTERS
Russian journalist, Putin's vocal critic Arkady Babchenko is alive and his "assassination" was a special operation by the SBU Security Service of Ukraine.
Babchenko revealed himself before journalists at an SBU press conference in Kyiv on May 30.
The SBU in turn said that its officers had detained a suspect who was engaged in preparations for the contract killing of the journalist.
The operation was held at the highest level of security.
"I should have offered my condolences to the family, but on the contrary, I want to greet them ... I want to congratulate Arkady Babchenko on his 'third birthday,'" SBU Chief Vasyl Hrytsak, who was present at the press event, said.
Read alsoAttempt on MP Mosiychuk organized by Russian intelligence operative – SBU
The contract hit was ordered by the Russian special service, the SBU said.
A Ukrainian citizen was recruited for the assassination. "The SBU documented that the Russian special services had recruited a citizen of Ukraine for the fulfillment of this cynical plan. His task was also to hire whose who would commit a number of terrorist acts with multiple victims," Hrytsak said.
Babchenko said, in turn, that the pay for his contract killing was set at US$40,000. According to him, he was warned about a possible assassination one month prior to this.
"They came to me a month ago. They said: 'There is a contract on you. Money has already been transferred.' Money, as far as I know, 40,000 dollars. Well, my price tag is good ... They showed documents, my passport details, my photo – the one which is only in my passport. I took it when I received the passport," he gave details of the operation.
It was reported earlier that war correspondent from Russia, Russian journalist and writer Arkady Babchenko was shot dead when entering his flat in Kyiv's Dniprovsky district on the evening of May 29. Babchenko fled Russia because of political prosecution. His recent job was a TV host on a Crimean Tatar TV channel.