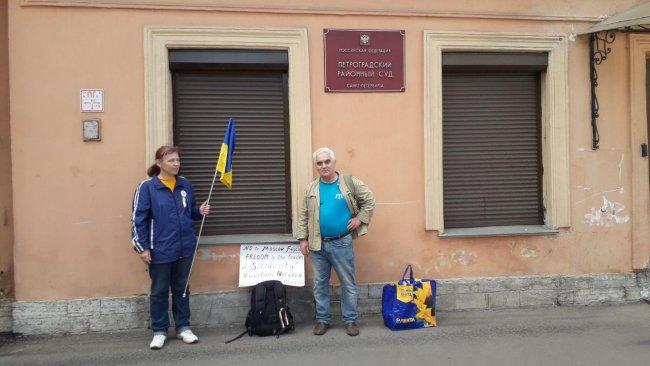 Photo from OVD-Infor
Three activists, holding a Ukrainian flag and a poster in support of Ukrainian filmmaker and Russia's political prisoner Oleh Sentsov, were detained outside the building of the Petrogradsky district court in St. Petersburg on June 2.
Read alsoActivists hold rally in Kyiv in support of Sentsov, other political prisoners
Activists Olga Smirnovа, Maria Kozhevatovа and Asan Mumji came to the court where the trial over activist of the Democratic Petersburg coalition Vsevolod Nelaev was due to be held. Law enforcers detained them for "violating the federal law on public events," OVD-Info reported.
Vsevolod Nelaev was detained on June 1 during a picket in support of Sentsov. However, the reason for the detention was his participation in the May Day march, it said.
The detainees were taken to a police station in St. Petersburg. As reported, Smirnova was released without any records. The police detained the other activists, drawing up protocols on repeated violation of the procedure for holding public events.
As UNIAN reported earlier, over 1,000 people held a rally at Maidan Nezalezhnosti (Independence Square) in Kyiv on Saturday, June 2, in support of Sentsov and other Ukrainian political prisoners held in Russia.