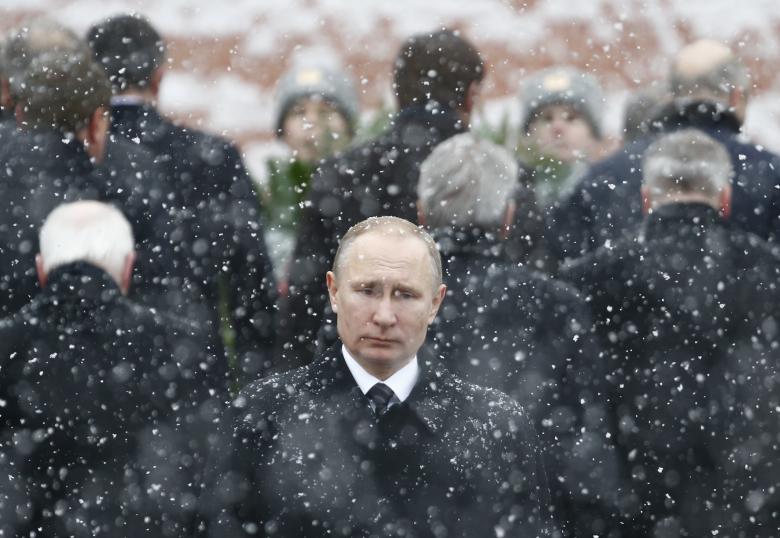 REUTERS
Any escalation of Vladimir Putin's aggression against Ukraine will in fact result in the speed-up of the fall of his regime, and the Russian leader is well aware of that, according to a Russian financier and blogger Slava Rabinovich.
"In the event of the deployment of conditional Russian tanks to the conditional 'Budapest,' the severest sanctions will be applied against the Putin regime, with massive inclusion of individuals mentioned in the U.S. Congress report in the list of personal sanctions, and massive placing of the Russian financial and banking system under sanctions," the financier wrote in an op-ed for Apostrophe.
He assumes that under this scenario, a partial trade embargo on the export of Russian energy will also be announced.
"In general, this all will lead to an instant collapse of both the economy and, most likely, the regime. Putin is aware of that," says Rabinovich. "I believe that 2018 is absolutely different from 2014. In 2014, against the background of the Sochi Olympics, Putin did what he did, but he did not fully realize the consequences in full."
Read alsoUkraine General suggests "only thing" keeping Putin from "big war" with Ukraine
The financier adds that four years on, Putin not only realizes consequences but he has also found himself in a "completely new world compared to what was in January 2014, before the Olympics: this is about sanctions regime, rogue state, downed Boeing, and accusations of international terrorism and war crimes."
Therefore, Rabinovich suggests, it would be wrong to draw direct parallels between the holding in Russia of major international sports events and Putin's actions against their background.
Read alsoKremlin: Putin's words about "consequences for Ukraine's statehood" should be taken "unequivocally"
At the same time, the financier adds: "All the same, we should leave some room for the assumption that he and his inner circle are really inadequate enough to not realize all this. We must understand whom we're dealing with," said Rabinovich.
The financier comments come following the Kremlin spokesman's warning that Putin's recent statement on "grave consequences to the Ukrainian statehood as such" that might be the result of any attempt by Kyiv to try liberating Donbas during World Cup 2018 should be taken "unequivocally."