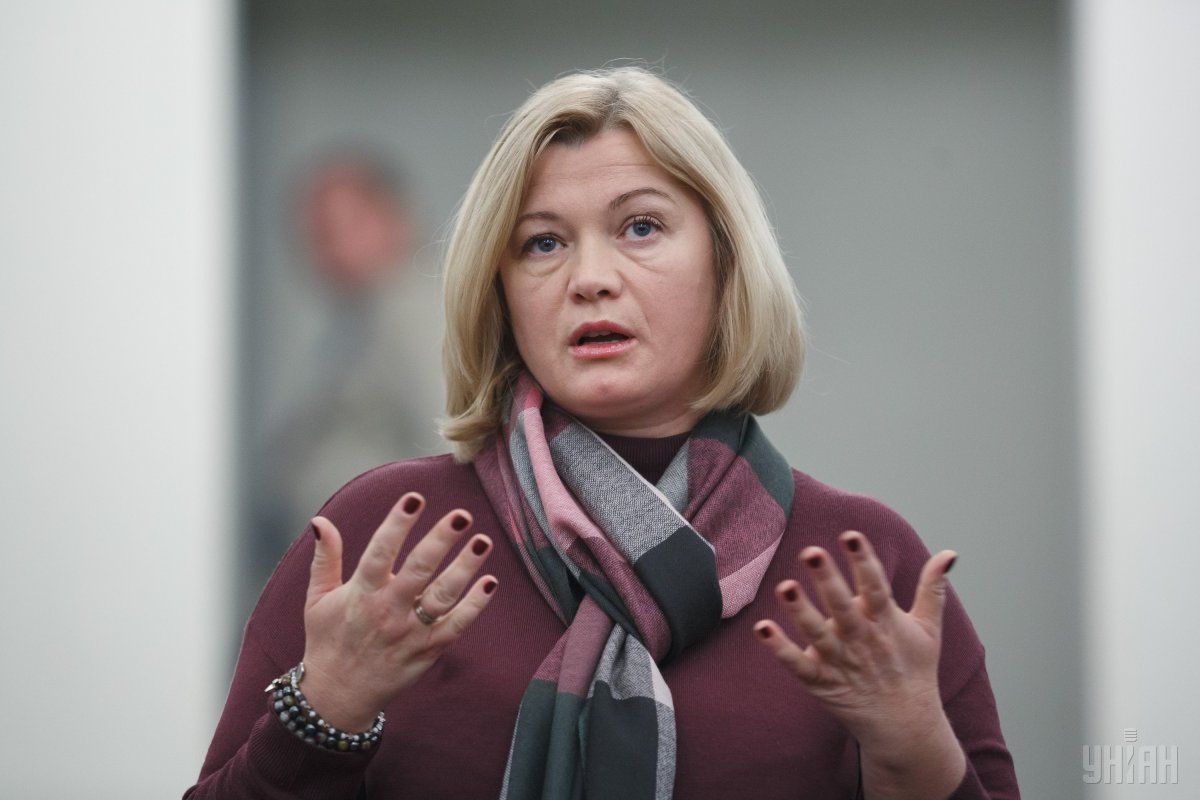 Photo from UNIAN
First Deputy Chairwoman of the Verkhovna Rada of Ukraine and Ukraine's humanitarian envoy to the Minsk talks, Iryna Gerashchenko, has named 23 Russians whom Ukraine is ready to swap for illegally detained Ukrainian political prisoners.
Speaking at a briefing on Monday, July 2, Gerashchenko said she was authorized by the Ukrainian special services to disclose the names of those "whom we are ready to transfer to Russia for the release of such Ukrainians as [Oleh] Sentsov, [Oleksandr] Kolchenko, [Roman] Sushchenko, [Pavlo] Hryb, [Volodymyr] Balukh, [Yevhen] Panov and those guys who are held in the occupied territory," an UNIAN correspondent reports.
Read also50 days of hunger strike: Ukrainians rally in support of Sentsov (Video)
She disclosed 23 names: Viktor Ageyev, Alexander Baranov, Anatoliy Busygin, Valakhidis Alexander, Viacheslav Vysotskiy, Ruslan Bedzhiev, Valeriy Gratov, Vladislav Grechin, Oleg Doronin, Sergey Egorov, Valeriy Ivanov, Igor Kimakovskiy, Olga Povaliz, Vasiliy Kusakin, Vladislav Makarov, Yevgeniy Nefiodov, Maksim Odintsov, Alexey Sidikov, Denis Sidorov, Maksim Slivka, Pavel Chernykh, Larisa Chubarova, Yevgeniy Shatalov.
According to UNIAN, all surnames are reproduced with a voice, so misspellings of the names are possible.
Gerashchenko said the listed individuals "are convicted for preparing terrorist acts in Odesa, Kharkiv, Kyiv, Kherson, or for taking part in hostilities in Donbas, or they are under prosecution."
Gerashchenko said: "Take yours, give the Ukrainians back."
As UNIAN reported earlier, Ukrainian Ombudsperson Liudmyla Denisova said on June 29 Ukraine was ready to transfer 23 Russian citizens to Russia in exchange for 23 Ukrainian political prisoners illegally detained or convicted and serving their terms in Russian prisons.