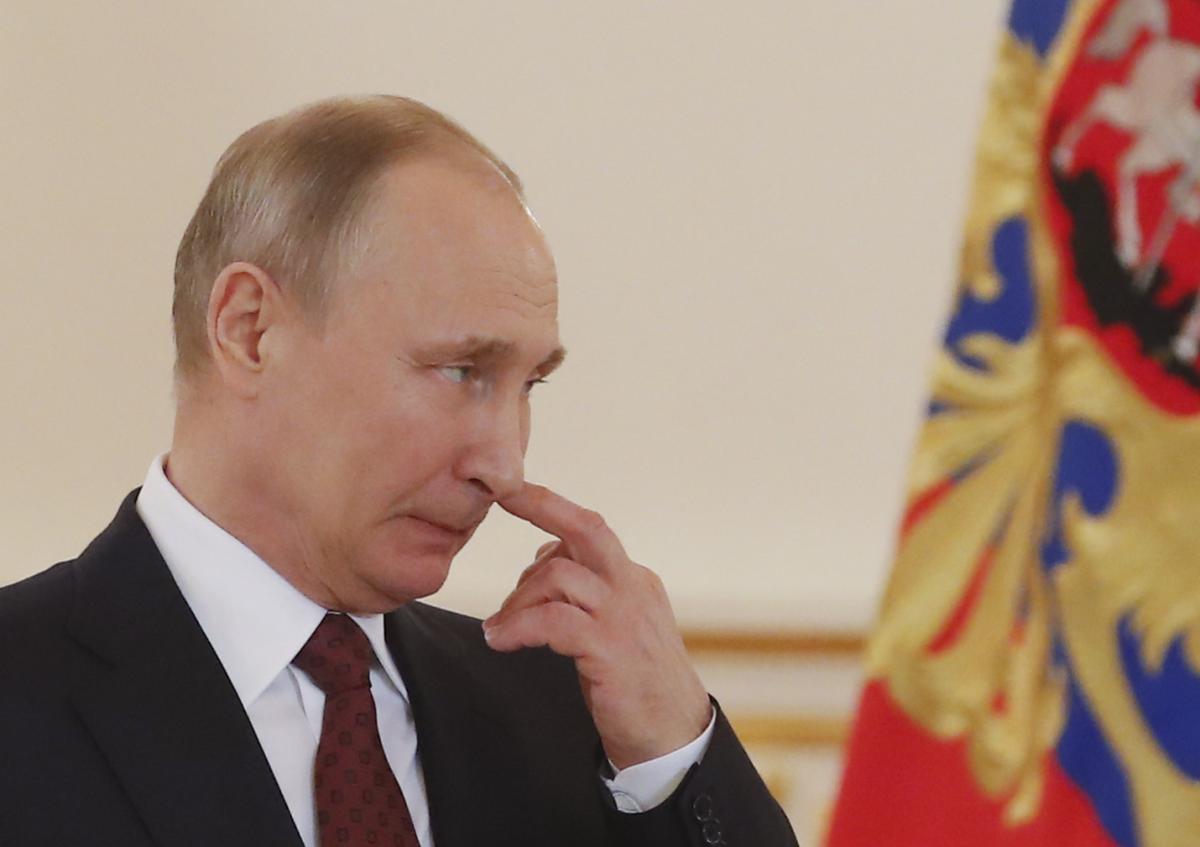 REUTERS
Vladimir Putin used his meeting with Donald Trump to ratchet up the pressure on Ukraine by proposing a referendum there, the latest detail to emerge from the two presidents' private talks that is set to raise concerns in Ukraine and the west.
During two hours of discussions with Trump in Helsinki on Monday, the Russian president raised the idea of conducting an internationally supervised referendum in the separatist areas of eastern Ukraine, a Russian ambassador present at a closed-door meeting with Putin on Thursday told the Financial Times.
Anatoly Antonov, Russia's ambassador to the U.S., confirmed that "new proposals for solving [the conflict in the Donbass region] were made" during the summit. However, he added that Ukraine had not been at the center of the leaders' discussions.
Putin's proposal, first reported by Bloomberg, is seen as an astute political move to capitalize on Trump's desire to build a relationship with him, rather than a genuine suggestion to end the conflict, which Russia instigated and has helped to fuel for four years.
If the U.S. president were to pursue the idea, it could add to the growing split between Washington and the EU, whose members Germany and France continue to moderate a faltering peace process for Ukraine, based on the 2015 Minsk agreements.
Read alsoUkraine official: "no referendum" to be held in occupied Donbas
Although Russian regular troops and volunteers have been involved in the fighting, and Russia has provided arms and sponsored local separatists, Moscow calls the war an intra-Ukrainian conflict and claims not to be a party to it.
The Minsk agreements call for control over Ukraine's border with Russia to be returned to Kyiv but only after Ukrainian political reforms to give the conflict areas more autonomy — an agreement that strongly favors Russia.
A person close to Vladislav Surkov, an aide to Putin who holds regular talks with the U.S. special representative for Ukraine, Kurt Volker, said the idea of solving the conflict through a referendum had been discussed in Moscow repeatedly. But he said such a process would be different from the vote Russia conducted in Crimea in early 2014 to justify its annexation of the territory from Ukraine.
Read alsoPutin's words on Crimea "referendum" must be used as confession – MP
"This would have to happen under the auspices of the UN," the person said. "And it would have very little to do with Russia — nobody is talking about unifying those regions with the Russian Federation."
Arseniy Yatsenyuk, the influential former Ukrainian prime minister whose party is a partner in the country's ruling coalition, warned in a Facebook post that "President Putin's proposals are always deceptive . . . We advise our partners not to have any illusions with respect to 'new' and 'interesting' ideas which Russia proposed at the Helsinki meeting".
"This is a negotiating trap. Ukraine will not accept any secret plans on Donbas and Crimea," Yatsenyuk added.
If Mr Putin brought it up with Mr Trump, "one would think that the goal was to set a new Ukraine agenda and put pressure on Kiev in order to make them more willing to compromise," Alexander Ivakhnik of the Centre of Political Technologies, a Moscow political consultancy, wrote on Telegram. "There are practically no chances that the idea of such a referendum will be realised."
It would not be Moscow's first Ukraine-related initiative to fail to gather steam. Last year Mr Putin suggested a UN-backed peacekeeping mission in Donbas, but as Moscow's conditions were unacceptable to all other parties, talks between Surkov and Volker about it quickly ran aground.