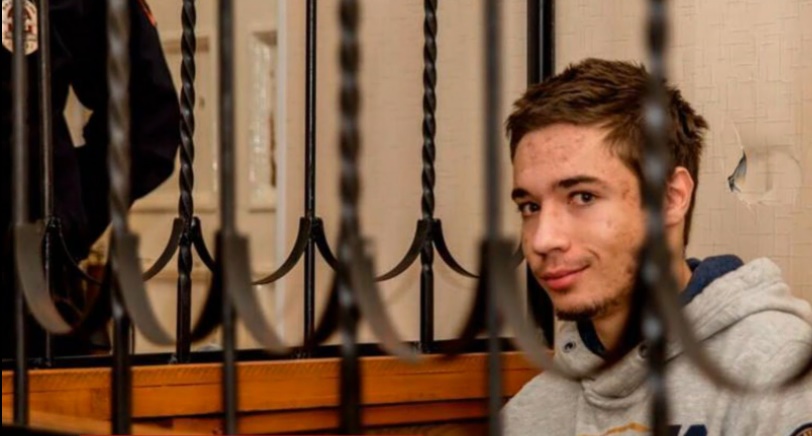 Snap from video
The Ministry of Foreign Affairs of Ukraine has once again demanded from Russian authorities to release Ukrainian national Pavlo Hryb who had been abducted by the FSB from the territory of Belarus and then arrested in Russia, according to the ministry's press secretary, Mariana Betsa.
"The farce in the Pavlo Hryb case continues. Today, Russia illegally extended his arrest until April 2019. We express our protest to the Russian Federation and demand [Hryb's] release," the diplomat wrote on Twitter.
Read alsoMoscow completely blocks hostage release – Gerashchenko
As UNIAN reported earlier, the North Caucasian district military court extended Pavlo Hryb's term in custody for another 6 months
In August 2017, Pavlo Hryb was abducted from Belarus by the Russian FSB security force and consequently illegally arrested in the Russian Federation.
Trumped-up charges have been pressed against the young man under Article 205 of the Criminal Code of the Russian Federation (an act of terrorism).
Russian investigators accused Hryb of allegedly plotting a terrorist attack at a school assembly in Sochi.
Pavlo Hryb is diagnosed with portal hypertension, which requires daily intake of necessary medications and a special diet, the lack of which could become fatal. Russian authorities do not allow access of Ukrainian doctors to examine the political prisoner's health.
On July 23, 2018, the court in Rostov-on-Don, Russia, returned the indictment against Hryb to prosecutors and extended his arrest until October 22, 2018.
On October 25, Krasnodar Krai's prosecutors sent back the Hryb case to the North Caucasian district military court. A case hearing is scheduled to be held in the Russian city of Rostov-on-Don November 15.