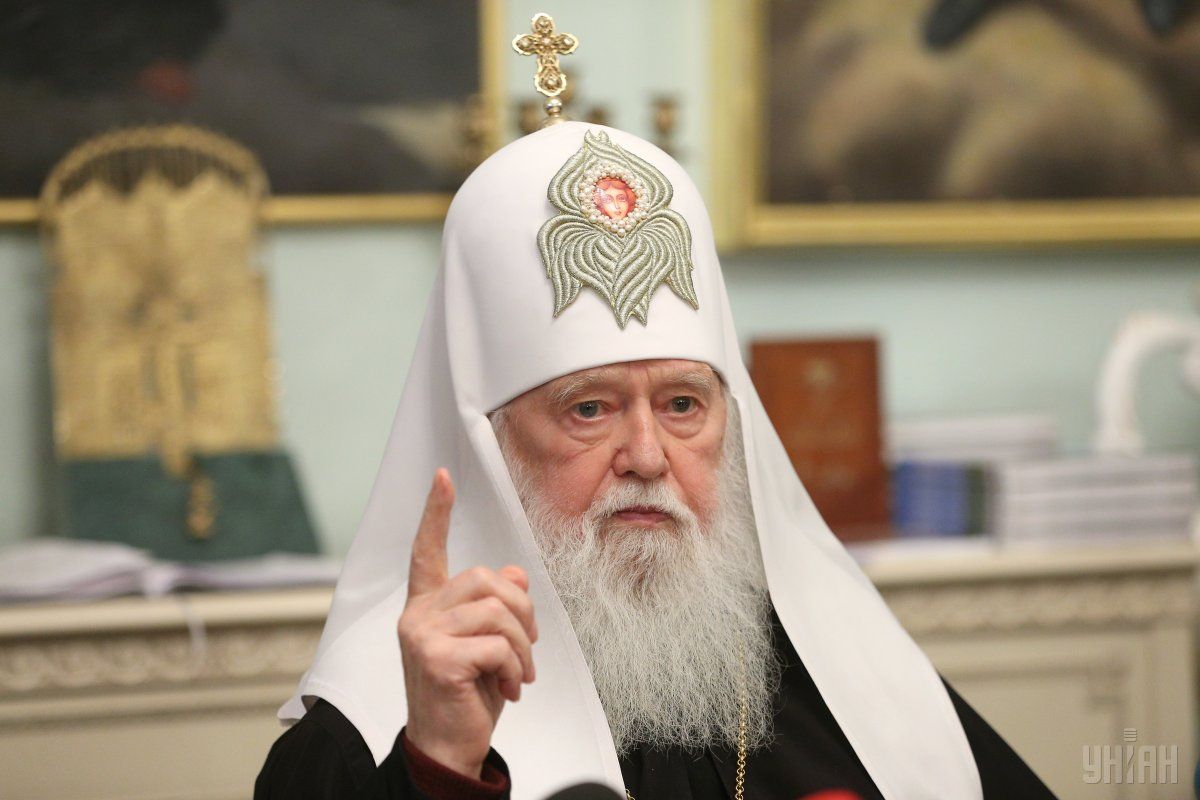 Photo from UNIAN
Head of the Ukrainian Orthodox Church of the Kyiv Patriarchate (UOC-KP) Filaret has said over 50 bishops will take part in the unification council for the creation of an independent local Orthodox church in Ukraine, which is scheduled for December 15.
Speaking in Chernihiv, he said the UOC of the Kyiv Patriarchate would have the largest number of representatives at the unification council, namely 40 bishops would represent it. The existing Ukrainian Autocephalous Church will be represented by 12 bishops, while the UOC of the Moscow Patriarchate will send three or four representatives.
Read alsoPatriarch Bartholomew explains Metropolitan Onufriy reasons for Ukraine church's autocephaly (Letter)
Filaret says there is a furious struggle for non-unification and non-recognition of the Ukrainian church nowadays.
"Moscow is doing all this, but through the local accomplices in Ukraine. It is spreading rumors that the patriarch will resign and will not run. This is not true. I will be patriarch to death, because the enthronement was in 1995. And no one will remove this grace," he said.
Filaret also highlighted the church unification agenda: the adoption of the charter of an independent local Orthodox church in Ukraine and the election of its head would be considered during the unification council.
He expressed the hope the event would bring change for the better.
"We will not accept the worst. And we will reject everything inappropriate if it is demanded from us," Filaret said.
As UNIAN reported earlier, a decision was announced after a meeting of the Holy Synod on October 11 that the Ecumenical Patriarchate proceeds to granting autocephaly to the Church of Ukraine.
In addition, the legal binding of the Synod's letter of 1686 was abolished, thus taking the Kyiv Metropolis from under Moscow's canonical jurisdiction. Also, head of the Ukrainian Orthodox Church of the Kyiv Patriarchate (UOC-KP) Filaret and head of the Ukrainian Autocephalous Orthodox Church (UAOC) Makariy were reinstated in their canonical status.
On October 12, the UOC-KP urged the hierarchs of the Ukrainian Autocephalous Orthodox Church and the Ukrainian Orthodox Church of the Moscow Patriarchate (UOC-MP) to prepare for a special unification council.
On November 3, Poroshenko and Ecumenical Patriarch Bartholomew I signed an agreement on cooperation and interaction between Ukraine and the Ecumenical Patriarchate.
On November 19, the Ecumenical Patriarchate of Constantinople said the Holy Council of the Orthodox Church of Ukraine would be held in December.
On November 29, the Holy and Sacred Synod of the Ecumenical Patriarchate drafted the Ukrainian Church's constitutional charter in anticipation of the issuance of the Patriarchal and Synodal Tomos.
On December 5, Ukrainian President Petro Poroshenko said the Orthodox churches in Ukraine would gather for a unification council on December 15.