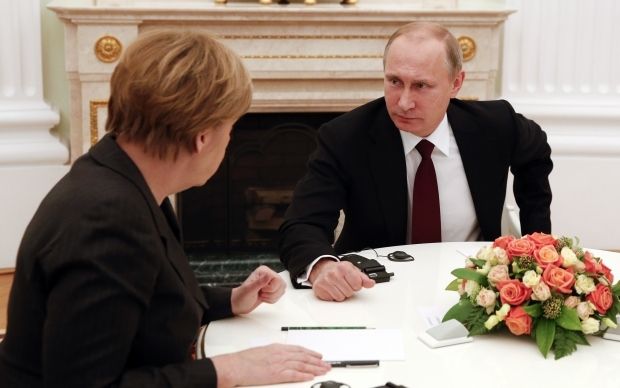 REUTERS
German Chancellor Angela Merkel has called on Russian President Vladimir Putin to free 24 Ukrainian sailors who were captured near the Kerch Strait in the Black Sea on November 25.
Merkel had a telephone conversation with Putin on Monday, December 10; it took place on her initiative, the Ukrainian media outlet lb.ua reported with reference to an official announcement on Merkel's website.
The main subject of the conversation was the situation in the Kerch Strait. Merkel, in particular, stressed the need for ensuring unimpeded passage of ships through the strait.
Read alsoRussia gas pipeline to boost grip on Ukraine, Europe: U.S. diplomat – media
In addition, the two leaders discussed gas transit shipments through Ukraine after 2019, when the current contract between Ukraine's oil and gas company Naftogaz and Russia's gas giant Gazprom is to expire.
Merkel and Putin also talked about the situation in Syria, in particular discussed the formation of a constitutional committee. They also touched on the Intermediate-Range Nuclear Forces Treaty (INF Treaty).
As UNIAN reported earlier, on the morning of November 25, Russia blocked the passage to the Kerch Strait for the Ukrainian tugboat "Yany Kapu" and two armored naval boats "Berdyansk" and "Nikopol," which were on a scheduled re-deployment from the Black Sea port of Odesa to the Azov Sea port of Mariupol. The Ukraine Navy Command noted that the Russian side had been informed of the plans to re-deploy the vessels in advance in accordance with international standards to ensure the safety of navigation. The Russian coast guard ship "Don" rammed the Ukrainian tugboat, damaging the Ukrainian vessel. As the Ukrainian boats were heading back in the Odesa direction after being rejected passage via the Kerch Strait, Russian coast guards opened aimed fire on them. All 24 crew members on board were captured and later remanded in custody for two months, being charged with "illegal border crossing" (the sailors are facing up to six years in prison). Three crewmen were wounded in the attack. Russian-controlled "courts" in occupied Crimea ruled that all 24 detainees should be remanded in custody, after which they were transferred to the Moscow-based Lefortovo and Matrosskaya Tishina detention centers.