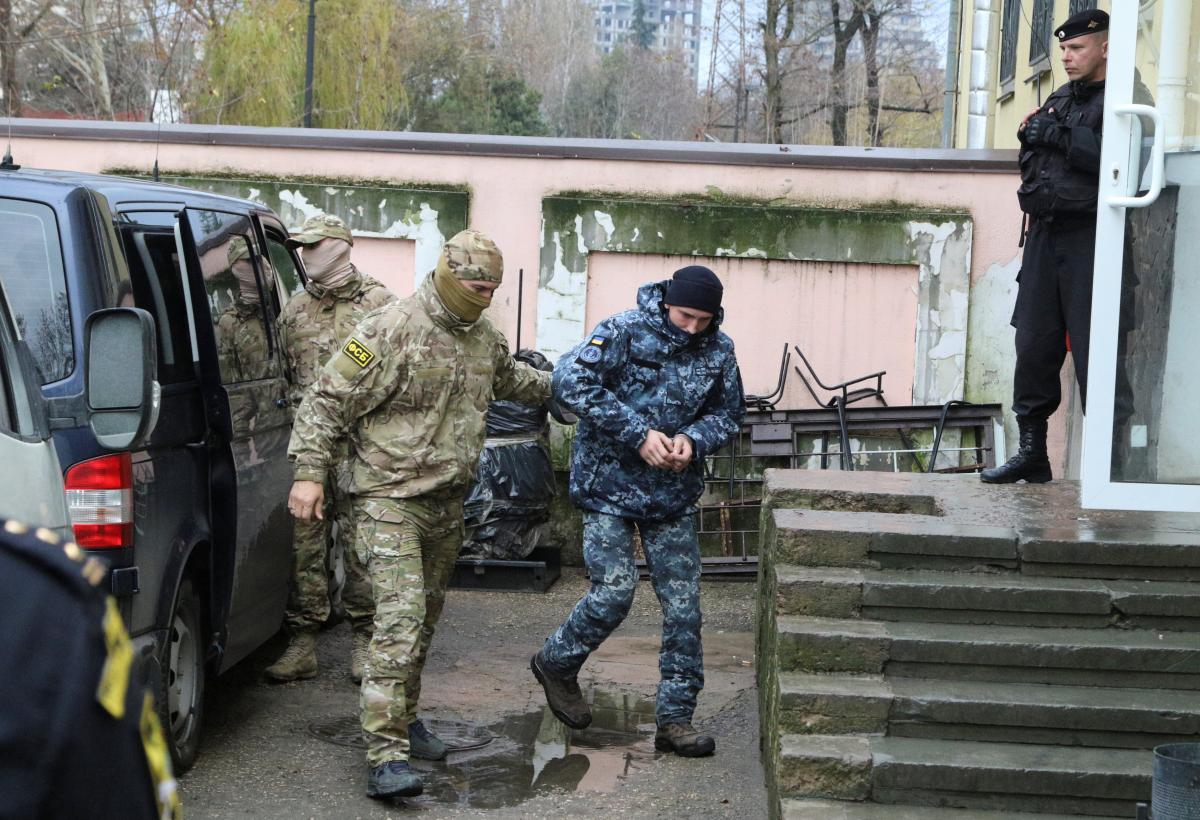 REUTERS
Russian president's press secretary Dmitry Peskov has said the Kremlin is not going to release Ukrainian POW sailors captured in the Kerch Strait in return for a meeting between U.S. President Donald Trump and Russian President Vladimir Putin.
"We are still convinced that the meeting is equally important for both Moscow and Washington," Peskov said, responding to a request from an UNIAN correspondent in Russia to comment on the relevant statement by U.S. national security adviser John Bolton.
He stressed the U.S. position suggesting that the two leaders will not meet until the captured Ukrainian sailors and ships are released "cannot be a reason for disrupting the course of the trial and investigation, which is being conducted in relation to violators of the Russian state border."
Peskov also stressed the Russian side remains ready for a bilateral meeting at the highest level, as well as other meetings at various levels, to start "a discussion of those urgent issues concerning our two countries and issues of strategic security worldwide."
Read alsoReuters: No Trump-Putin meeting while Russia holds Ukraine ships – Bolton
Answering a clarifying question of the UNIAN correspondent on whether it seems to him that the capture of Ukrainian sailors and three ships "impedes" the discussion of global problems, Peskov said: "Of course, we think so, and we agree here, and therefore we expect that the United States will come to the same conclusion."
In addition, when asked by UNIAN whether the position of the United States would affect the fate of Ukrainian prisoners, he said: "It's the course of investigation that may influence the fate of the Ukrainian crew, as well as the court's decision if it comes to that."
Clarifying whether it means that the Ukrainian sailors and ships can be released before the trial on the merits, Peskov said: "The investigation is underway. The documents are transferred or either forwarded to the court or not, according to the investigation results. Everything is in the hands of the investigation here – there is a fact of violation of the state border, there are violators of the state border and these boats are attached to the case."
Read alsoUkrainian Navy Commander ready to turn himself in to Russia in exchange for captured sailors
As UNIAN reported earlier, U.S. national security adviser John Bolton said on Thursday there would be no meeting between U.S. President Donald Trump and Russian President Vladimir Putin while Russia still holds Ukrainian ships and sailors seized near Crimea.
Ukraine's Ministry of Information Policy recalled the Kremlin's TOP 10 fake allegations Russian media have been spinning to whitewash Russia's act of aggression near the Kerch Strait.
One of them was precisely the allegation that Ukrainian sailors "violated the Russian border."