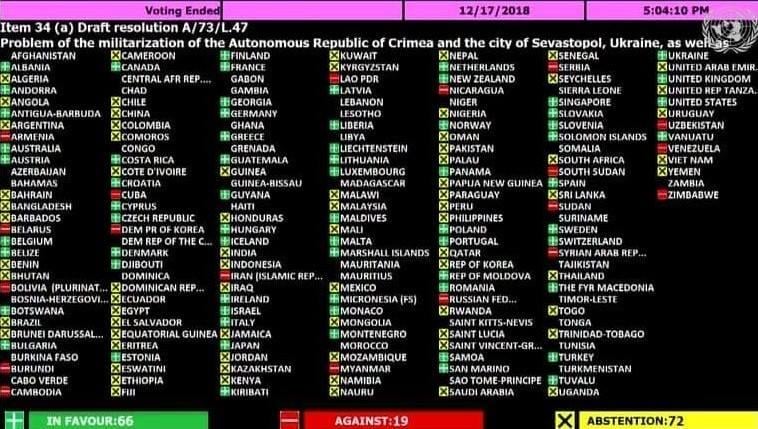 facebook.com/UKRinUN
Following Serbia's vote against the UN General Assembly's resolution on Crimea, Oleksandr Aleksandrovych, the Ukrainian Ambassador to Serbia, has accused Belgrade of violating the so-called gentlemen's agreement earlier reached by presidents of the two states.
The envoy recalled that in July during the Belgrade visit of Ukrainian President Petro, the informal deal was struck "not to vote against each other" at the UN, European Pravda reports referring to Kurir.
At the same time, Serbia turned out to be one of 19 countries that voted against the UNGA Resolution urging Russia to withdraw its troops from the territory of the occupied Crimea and condemning the growing Russian military presence in the Black and Azov seas.
Read alsoPoroshenko: UN resolution on Crimea important step toward end of its occupation
"Serbia could at least abstain," said Aleksandrovych. "Unfortunately, we don't understand Serbia's actions," he added, noting that Ukraine had not supported Kosovo's membership in Interpol and was showing concrete steps in not recognizing Kosovo's independence.
The ambassador also expressed regret over Serbia's non-alignment with EU sanctions introduced against Russia.
As UNIAN reported earlier, on December 18, the UN General Assembly supported the draft resolution " "Problem of the Militarization of the Autonomous Republic of Crimea and the City of Sevastopol, Ukraine, as well as Parts of the Black and Azov." Sixty-six countries backed the Resolution, 19 voted against it and 72 abstained.