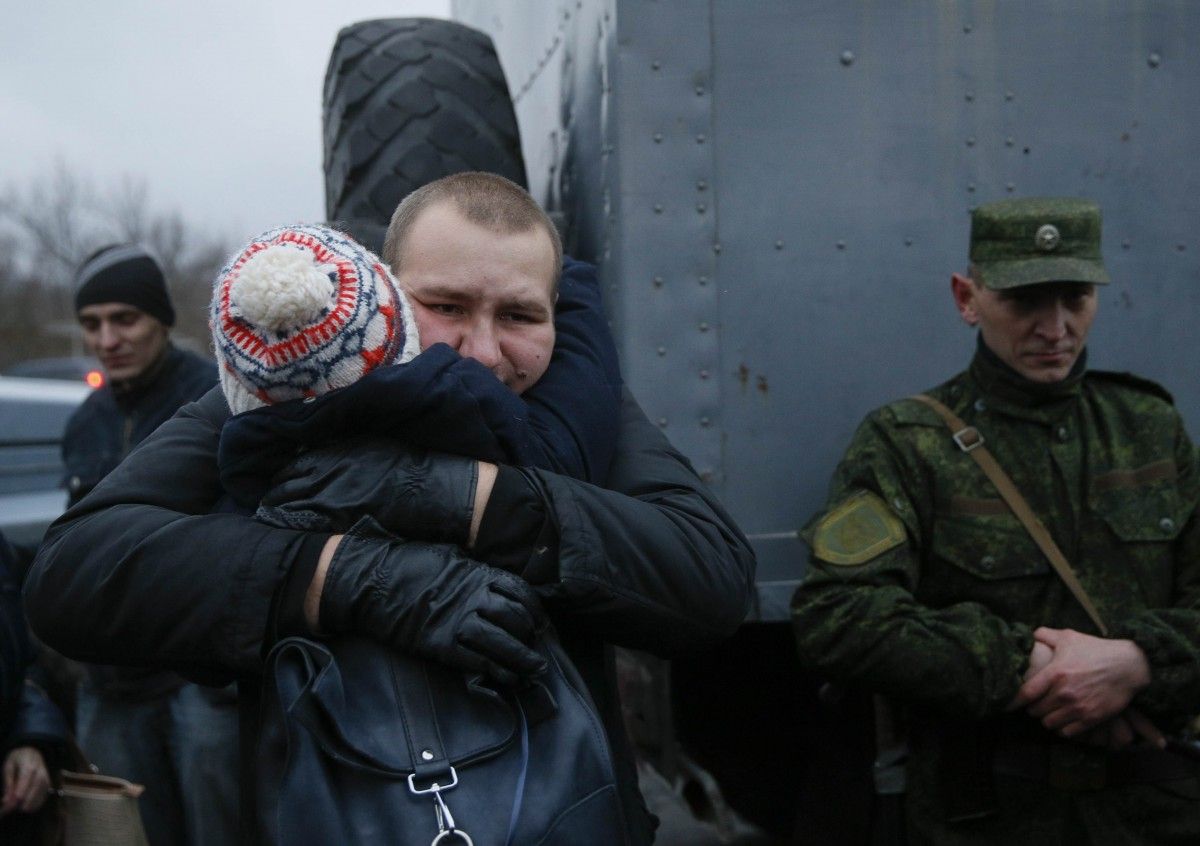 REUTERS
The Ukrainian side is initiating a video conference meeting of the humanitarian team of the Tripartite Contact Group on Donbas settlement Dec 27, to offer a detainee exchange on Jan 5, according to Iryna Gerashchenko, Ukraine's humanitarian envoy to the TCG and deputy chair of the Verkhovna Rada.
Ukraine will put forward "22-22" and "72-19" swap formats, Gerashchenko wrote on Facebook following a meeting with Ukraine's representative to the TCG, Yevhen Marchuk, and members of the humanitarian subgroup.
"Following the meeting, we approached the OSCE with the initiative to hold on December 27 a video conference meeting of a humanitarian group to once again discuss the issue of the release of hostages and political prisoners," the politician said.
Read alsoKremlin explains why "all-for-all" swap delayed
She also noted that the Ukrainian side had submitted to the yet another proposal. "We have carefully analyzed all lists and are ready to pardon and hand over the occupied areas of Donetsk and Luhansk regions 72 separatists in exchange for 19 hostages held in the occupied territories. Ukraine is ready for a wider compromise – for the sake of the liberation of our guys – and it is showing it through practical moves. We are also ready to immediately transfer to the Russian Federation 22 of their citizens who were detained and convicted in Ukraine," stressed Gerashchenko.
"Recently, a Russian national died in one of the colonies. He had been on the list of 23 of those whom Ukraine had long been ready to hand over to Russia. This man could have long returned home... But the Russian Federation refused to take its citizens back. We urge the Russian side to reconsider its position with regard to its citizens and take them and in exchange for transferring to Ukraine 22 political prisoners of the Kremlin," the MP wrote.
Read alsoPutin says Ukrainian sailors' swap may be discussed after completion of criminal case
In addition, Gerashchenko noted: "We express great regret over the fact that, because of the refusal of the Russian Federation and the occupied territories, the hostage release proposed by the Ukrainian side for Dec 27 failed. But we don't give up. We're offering the OSCE to convene all parties and discuss new initiatives at a video conference meeting Dec 27. We propose the swap to be held Jan 5,  in 22-22 and 72-19 formats, so that 150 people could celebrate Christmas at home, go to church with their families and pray for peace."
"Let me remind you that on this day, the security group's video conference will take place. It would be great to agree on both the release and a ceasefire. Ukraine's envoy to the TCG, Yevhen Marchuk, expressed willingness to join the work of both groups in order to look for a compromise together," Gerashchenko wrote.