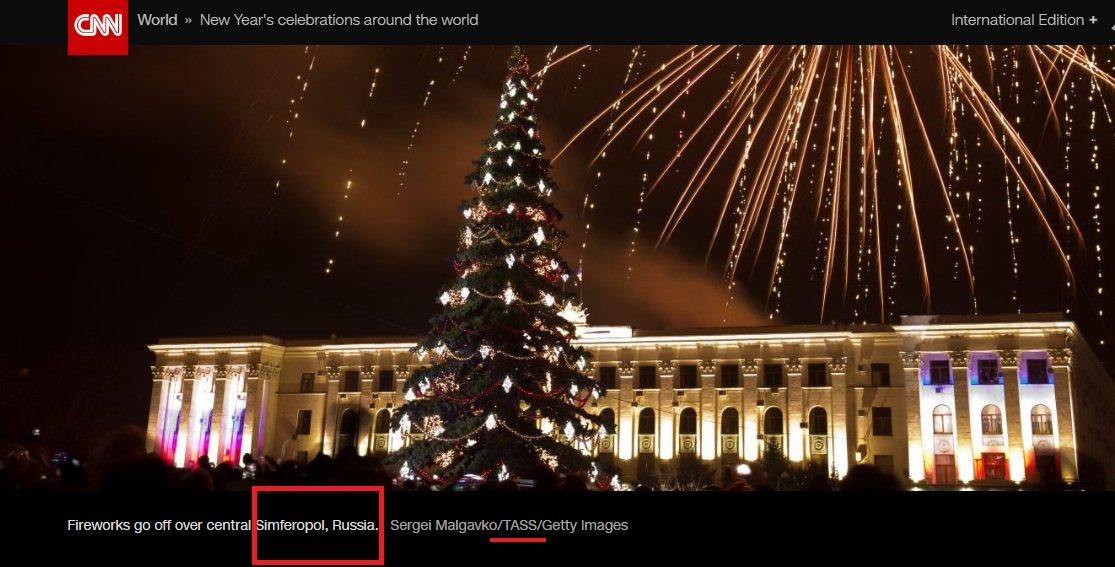 A CNN photo captioned "Fireworks go off over central Simferopol, Russia" / twitter.com/UKRintheUSA
Ukraine's Embassy to the United States has responded to a CNN report in which the Ukrainian city of Simferopol, which is occupied by Russia, was mentioned as part of Russia.
"Don't follow Russia's playbook," the Embassy said on Twitter on January 2.
"We hope that our friends from CNN will do better fact-checking and content choice. Simferopol is a Ukrainian city on the Crimean peninsula occupied by Russia," it said.
A material by U.S.-based CNN about New Year events around the world features a photo of Russian-occupied Simferopol captioned "Fireworks go off over central Simferopol, Russia."
In March 2014, after the Russian troops invaded Crimea, Russia annexed the Ukrainian peninsula, having organized a sham "referendum" on self-determination. The self-proclaimed Crimean government said that 96.77% of participating voters had supported Crimea's accession to Russia.
Ukraine designated the Crimean referendum as illegitimate.
On March 18, 2014, the Kremlin signed the so-called "Treaty of Accession" regarding Crimea and Sevastopol, Russia's naval base in the Black Sea.
Western countries did not recognize the annexation of Crimea and introduced a series of economic sanctions against Russia and Crimea.