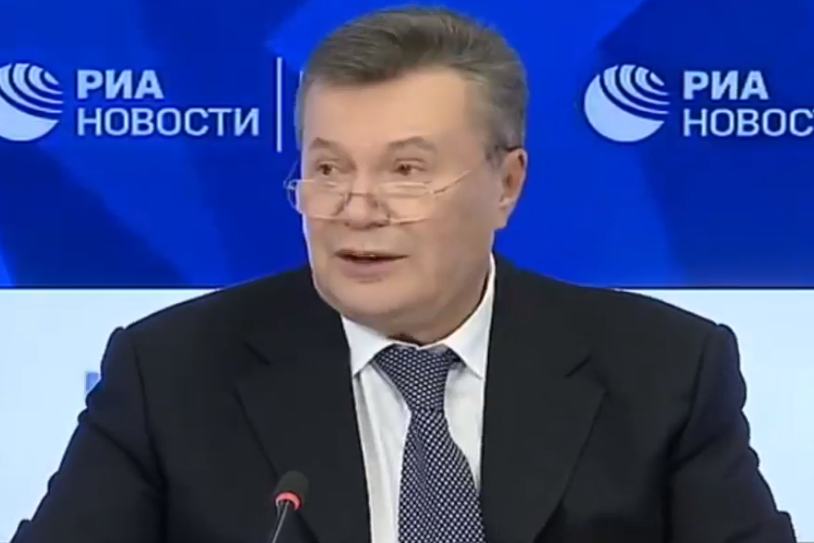 Snap from video
Speaking at a press conference in Moscow, the disgraced president said the agreement had been signed together with the leaders of the then opposition, however Russian representative Vladimir Lukin, who was present at the talks, did not sign the document.
"I talked to him on February 20-21. He sat at the negotiating table. Unfortunately, he was right when he told me: 'Do you really believe that these agreements will be implemented?' I said: 'Yes. I want to believe that at this level, when foreign ministers of European states arrive and sign the document, they [agreements] will be definitely implemented at this level. That is, I believe that some rules should work, some principles, laws. I told Lukin: 'I don't believe they can discredit themselves. All that we sign, we will implement from two sides, and the signatory countries will also be responsible for this," he said, according to an UNIAN correspondent in Russia.
Read alsoRussia used Yanukovych to try to legitimize Crimea annexation – judge
"Unfortunately, I was wrong and Lukin was right. How can I call this? I was deceived, betrayed. Or, as some forward-minded Ukrainian politicians say, who consider themselves as such, I got scammed as a loser," Yanukovych said.
He also claimed he had just returned to Russia after receiving treatment for his injury abroad.
As UNIAN reported earlier, the Ukrainian court sentenced Viktor Yanukovych in absentia to 13 years in prison, having found the disgraced president guilty of high treason, complicity in war, and encroachment on Ukraine's territorial integtiry.
On February 21, 2014, an agreement was signed in Kyiv on resolving the crisis in Ukraine. The document was signed by Viktor Yanukovych, Vitaliy Klitschko, Arseniy Yatsenyuk, and Oleh Tiahnybok.
The agreement was also signed by German Foreign Minister Frank-Walter Steinmeier, Polish Foreign Minister Radoslaw Sikorski and Head of the Department of Continental Europe at the French Ministry of Foreign Affairs Eric Fournier.
At the same time, the agreement was not signed by the Russian Ombudsman Vladimir Lukin, who was a mediator in the negotiations from Russia.
The parties agreed that within 48 hours after the signing of the agreement, a special law would be adopted, which would restore the Constitution of Ukraine of 2004.
The signatories also announced their intention to form a coalition and form a government of national unity within 10 days thereafter.
However, on February 22, Yanukovych left his Mezhyhiria residence and no one was aware of his whereabouts. Therefore, the Verkhovna Rada adopted a resolution "On self-removal of the president of Ukraine from the implementation of constitutional powers."
The parliament also appointed the presidential elections in Ukraine on May 25 and by a decree, restored the Constitution of 2004.