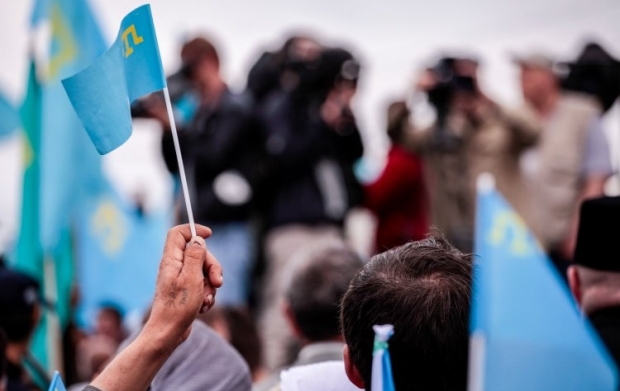 Photo from UNIAN
The European External Action Service (EEAS) says the European Union does not recognize Russian legislation in the occupied Crimea and the city of Sevastopol and expects the immediate release of 23 Crimean Tatars, illegally detained during searches.
"They are accused of belonging to the organization Hizb ut-Tahrir, which is banned in Russia but not in Ukraine. The European Union does not recognize the enforcement of Russian legislation in Crimea and Sevastopol and expects all illegally detained Ukrainians to be released without delay," Spokesperson of the European External Action Service said in a statement on March 30.
Read alsoRussia-controlled "court" in occupied Crimea rules to remand all detained Crimean Tatars in custody until May 15
It is noted that a court in the Crimean peninsula, illegally annexed from Ukraine by Russia, has ruled that all 23 Crimean Tatars detained on March 27-28 will be held in pre-trial detention until 15 May.
The recent detentions, as well as the prior searches of their private property, constitute the latest targeting of Crimean Tatars, human rights defenders, and people who have spoken out peacefully against the illegal annexation by Russia of the Crimean peninsula, the report said.
"Such acts corroborate the report of the UN High Commissioner for Human Rights, which states that 'Crimean Tatars continue to be disproportionately affected by police raids and prosecuted under terrorism and extremism-related offences in proceedings falling short of human rights standards,'" the Spokesperson said.
The European Union expects the Russian Federation to end these practices and to take all necessary steps to ensure that human rights and fundamental freedoms can be exercised by all in Crimea, without discrimination on any grounds.
As UNIAN reported earlier, Russian law enforcers in illegally occupied Crimea on March 27 conducted massive searches in homes of 25 Crimean Tatars, having taken a number of detainees to the FSB office in Simferopol.
The FSB press service claimed the searches were part of the investigation into the Hizb ut Tahrir organization, which is outlawed in Russia. Russian law enforcers later reported on the detention of 22 individuals. Three more Crimean Tatars have been detained in Russia's Rostov-on-Don. "Their houses were searched yesterday in their absence," NGO Crimean Solidarity reported on Facebook on March 28.
Hizb ut Tahrir is not banned in Ukraine.
Ukrainian diplomats are in contact with Ukraine's foreign partners over the new wave of repression against Crimean Tatars in the occupied peninsula on the part of the Russian Federation.
The European Union has called on Russia to stop putting pressure on Crimean Tatars in the temporarily occupied Crimea.
The U.S., UK, and Poland have also addressed the issue, condemning repression, including searches and arrests, and other human rights abuse, and calling on Russia to release Crimean Tatar detainees.