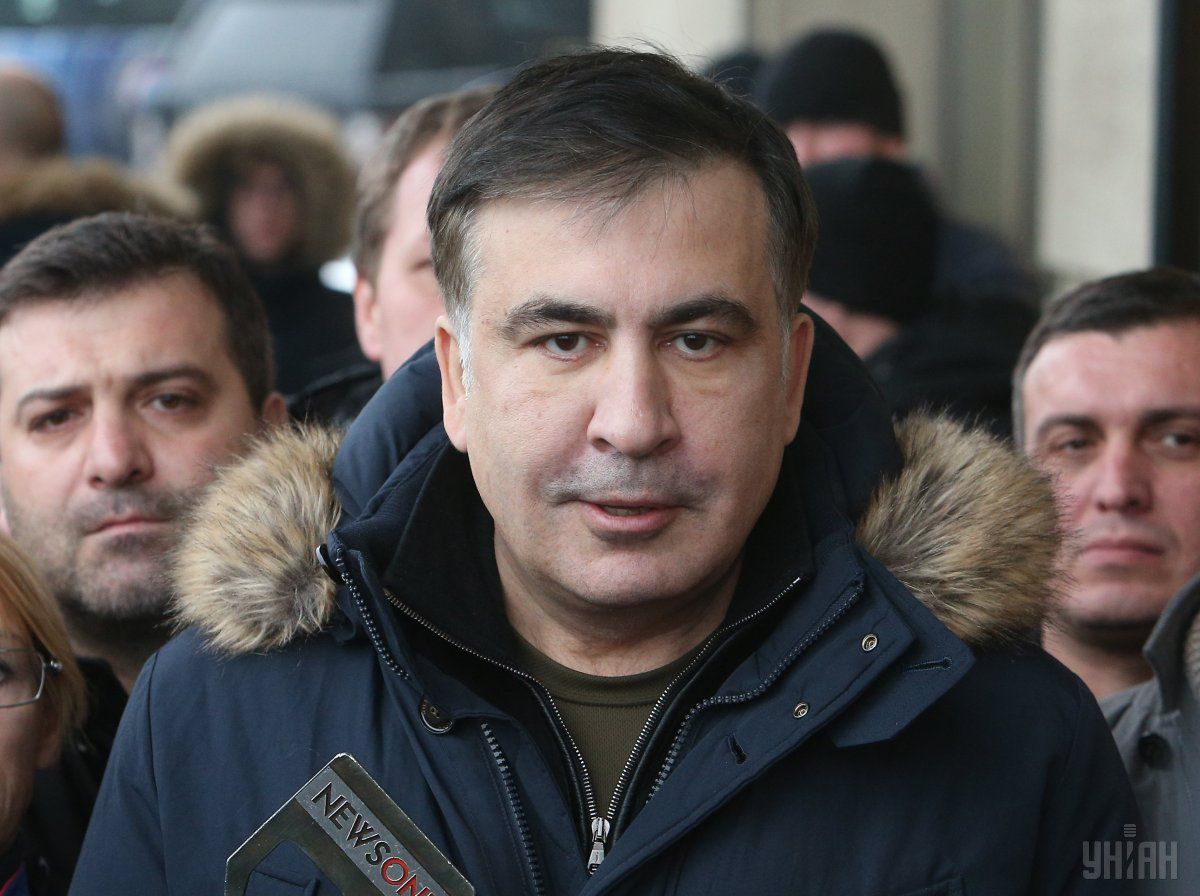 Photo from UNIAN
Leader of the Movement of New Forces Party in Ukraine, ex-Governor of Ukraine's Odesa region and ex-President of Georgia Mikheil Saakashvili has called on President Petro Poroshenko to return him Ukrainian citizenship taken away "in violation of Ukrainian legislation and international norms."
Read alsoUkraine's interior minister rules out Saakashvili's return to Ukraine
He reiterated Poroshenko had deprived him of citizenship when Saakashvili himself was not in Ukraine since he went to the United States to lobby in the Congress for the interests of Ukraine.
"You deprived me of citizenship in violation of Ukrainian legislation and in violation of international norms, because you cannot deprive a person of citizenship who does not have citizenship of another country," the politician said in a video posted on Facebook.
He said the case of returning his citizenship was being delayed in the courts due to the pressure of the Presidential Administration.
Saakashvili said he puts Poroshenko a "simple question: "Is it hard for you to restore legality, return my Ukrainian passport and let me enter Ukraine?"
He also hinted at Zelensky's appeal who had given Poroshenko 24 hours to think about the presidential debate at Kyiv's Olympiyskiy Stadium. Saakashvili said he would not give 24 hours because the president "has enough time until the second round of presidential elections to act according to the legislation and under international law."
"See you in Kyiv," Saakashvili added.
As UNIAN reported earlier, Saakashvili confirmed his plans to return to Ukraine on April 1, 2019.
At the end of July 2017, Poroshenko signed a decree on terminating Saakashvili's Ukrainian citizenship he had been granted earlier before he took up the top post at Odesa State Regional Administration.
According to Anton Gerashchenko, a member of the Council of the Ministry of Internal Affairs, Saakashvili was deprived of citizenship after it was proved he had provided inaccurate information while applying for it, in particular, in terms of his criminal record back in Georgia.
On September 10, 2017, Saakashvili, earlier deprived of Ukrainian citizenship, managed to cross into Ukraine at the Shehyni checkpoint. A crowd of the politician's supporters broke through the cordons of the Ukrainian law enforcers, took Saakashvili and a number of MPs and public figures accompanying Saakashvili in a tight ring, and literally forced the group's entry to the territory of Ukraine evading standard border control routine.
According to Anton Gerashchenko, Saakashvili was accompanied by Members of Parliament Yulia Tymoshenko, Serhiy Vlasenko, Yury Derevianko, Pavlo Kostenko, Dmytro Dobrodomov, and former SBU chief Valentyn Nalyvaichenko.
Poroshenko said that the border guards during penetration of the state border by Saakashvili along with his entourage had full right to use weapons, but did not allow to "spark fire sought by populist politicians."
On December 5, law enforcers detained Saakashvili in Kyiv but later the same day his supporters managed to get him released from a convoy vehicle.
On December 11, a district court in Kyiv refused to satisfy the prosecution's petition to order a two-month house arrest. The Kyiv Court of Appeal four times postponed the consideration of the appeal against the said court decision.
The Prosecutor General's Office of Ukraine put Saakashvili on the wanted list on charges of assisting members of criminal organizations and concealing their criminal activities (Part 2 of Article 256).
According to Prosecutor General Yuriy Lutsenko, Saakashvili organized protests to seize state power in Ukraine and assist members of the criminal gang of ex-President Viktor Yanukovych and businessman Serhiy Kurchenko in halting their criminal prosecution.
On February 12, 2018, Saakashvili was transferred to Poland under the readmission procedure.