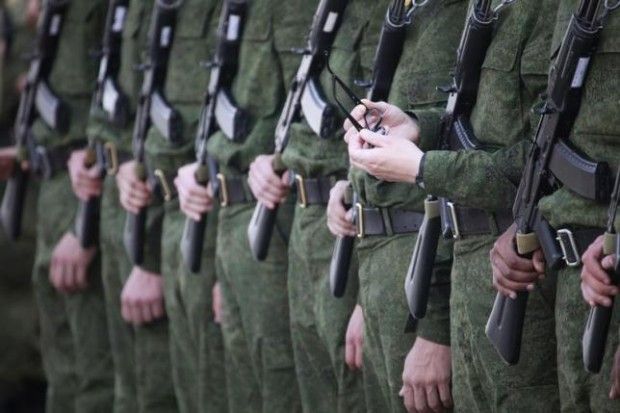 REUTERS
Ukraine should resume general military draft given the direct threat Russia is posing, says foreign intelligence veteran, Lieutenant General Vasyl Bohdan.
"The country should also be fully prepared for the introduction of martial law," the general told Obozrevatel.
"Powerful Russian military units, more than 200,000 military personnel and military equipment such as cannon and rocket artillery, air force, and e-warfare units have been amassed on the borders with Ukraine," Bohdan said.
"There is every reason to claim that Russia is preparing for a large-scale military campaign against Ukraine," the general stressed.
Read alsoKremlin uses for e-warfare drilling rigs seized in Black Sea: OSINT group
In his opinion, "this should push top authorities of Ukraine to take appropriate measures."
Bohdan recalled that the introduction of martial law in Ukraine for a 30-day period "showed that there were a lot of problems, ranging from the security and defense sector to the government agencies and and local authorities."
The general is convinced it is necessary to immediately address these issues "in case we need to take the path of implementing the law on the legal status of martial law."
In addition, "the time has come to resume general military draft," he said.
According to Bohdan, there are sufficient grounds for this. "The fact that we now have on the borders, the way the fifth column in Ukraine has been operating – all of this pushes to mobilize civil society and the country as a whole in order to deliver a resolute response and not allow the Russian enemy to seize the whole country," he stressed .
Read alsoUkraine intel assesses size of Russia's military force amassed in occupied Crimea
As an additional argument in favor of this proposal, the general recalled the "textbook example" of Israel. "All capable citizens of the country, both male and female, undergo military training. And in their civil society this causes no objections or misunderstandings. Everyone is well aware that everyone should work for the sake of the state's defense capability."
Earlier, Chief of the General Staff of the Armed Forces of Ukraine, Ruslan Homchak, said that in the coming years Ukraine will maintain a mixed army draft system.