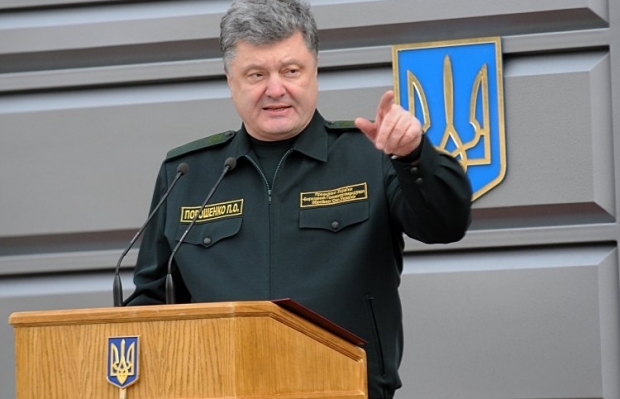 Hitler and Stalin orchestrated WWII bloodshed, Poroshenko says / Photo from UNIAN
Poroshenko announced this at an official ceremony to commemorate victims of totalitarianism, which was also attended by Polish President Bronislaw Komorowski.
"Forgotten sins are unforgiven sins. And when it goes about the atrocities of totalitarianism, the question of remembering such sins or not becomes a choice – to be or not to be a human being," Poroshenko said.
On Thursday, Poroshenko and his Polish counterpart Komorowski together with their wives visited National Historic and Memorial Reserve "Bykivnia Graves" – one of the biggest burial places of victims of totalitarianism. They paid tribute to the victims of communist terror – Ukrainians, Poles and other nations.
"The best sons of the Polish nation were buried here together with Ukrainians. Pursuant to the direct order of Stalin and Beria, without any trial or investigation, thousands of Polish officers, thousands of intelligentsia representatives were killed in the dungeons of the NKVD and buried, inter alia, in the blood-irrigated earth of Bykivnia," the Ukrainian president noted.
"And God forbid us from seeing a new Babyn Yar [massacres of Jews by German forces in Kyiv in September 1941], Bykivnia, Katyn [mass executions of Polish nationals by the Soviet secret police, or the NKVD, in April and May 1940], and a new Holocaust [the systematic and state-sponsored persecution and murder of Jews by the Nazi regime during WWII] or Holodomor [an artificial famine in Ukraine in 1932-1933]," Poroshenko said.
According to the Ukrainian president, events in Bykivnia became the echo of September 1939, when Adolf Hitler and Joseph Stalin unleashed WWII and tried to divide Europe. "Anschluss, annexation, occupation – our eastern neighbor has just refreshed these notions in our memory," Poroshenko stressed.