Poroshenko: "We're currently defending global security and democracy"
Ukrainian is now defending global security and global democracy and counts on U.S. support in the fulfillment of the Minsk agreements.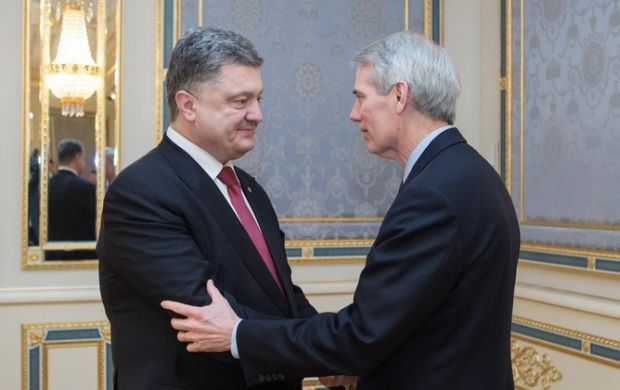 Ukraine is doing its utmost to fulfil the Minsk agreements / Photo from twitter.com/poroshenko
"We are currently defending global security and global democracy. If we lose this battle, the whole global security will lose," Ukrainian President Petro Poroshenko said at a meeting with U.S. Senator Rob Portman in Kyiv, the presidential press service told UNIAN.
Poroshenko emphasized the importance of transatlantic solidarity for the support of Ukraine, which is currently defending democratic values in the fight against the aggressor.
Ukraine is doing its utmost to fulfill the Minsk agreements and counts on the support of the U.S. in ensuring that all parties to the conflict implement the agreements, Poroshenko emphasized.
In particular, Poroshenko stressed the need to send an international peacekeeping mission to eastern Ukraine 'in order to ensure the stability of the peaceful process."
Yet, the president added, Ukrainians are now fighting not only to defend their country, but also to change it and introduce "absolutely new values."
Poroshenko thanked the Senator for his personal position on the necessity of providing more active support to Ukraine.
The Senator in turn said that the United States should be closer to Ukraine. He said he was impressed that Ukraine had changed so much in the past year. Still, threats to Ukraine's national security have increased significantly, he said.
Portman said he stood for the United States to be more involved in the process of ensuring the implementation of the Minsk agreements.
According to the Senator, the U.S. Administration should take steps not only to develop training programs for the Ukrainian army, but also to boost the defense capacity of the Ukrainian Armed Forces.
Portman also noted the importance of further financial support of reforms in Ukraine.
If you see a spelling error on our site, select it and press Ctrl+Enter