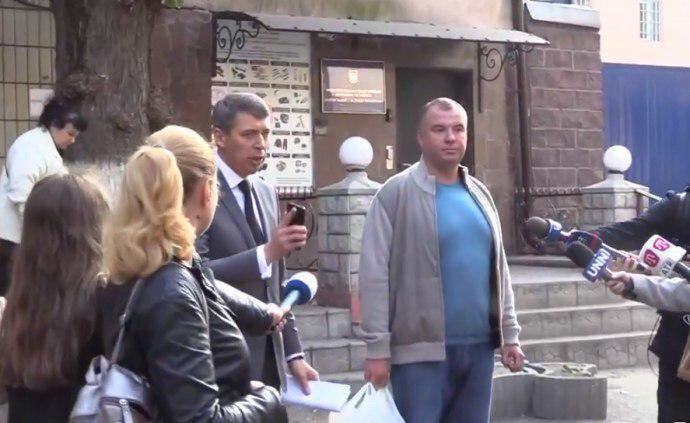 Hladkovsky has been released after bail was put up / Klymenko time
Former deputy head of the National Security and Defense Council of Ukraine (NSDC) Oleh Hladkovsky, who has been released on bail in a case opened on charges of abuse of office, will be wearing an ankle monitor.
"The bail was put up, all the procedural documents were issued – and you've seen Oleh Volodymyrovych [Hladkovsky] has been released from a pretrial detention center. We will continue executing other parts of the court ruling – we need to hand in his passports," Hladkovsky's lawyer Ruslan Volynets told reporters in Kyiv on October 21.
Read alsoBail worth over US$420,000 posted for ex-NSDC official Hladkovsky accused of abuse of office
"Yes, the [ankle] monitor has been put on [him], the monitor is there; we are executing the court ruling. We disagree [with it], but we should follow it," Volynets added.
As UNIAN reported, Hladkovsky was detained by National Anti-corruption Bureau of Ukraine (NABU) officers near a restaurant at Boryspil Highway outside Kyiv on October 17 after he had allegedly tried to flee Ukraine through Boryspil Airport, but border guards did not let him leave the country.
On October 18, the Special Anti-corruption Prosecutor's Office (SAPO) announced that the ex-official had been notified of the suspicion of committing crimes under Part 2 of Article 364 (abuse of power and official position) and Article 366-1 (declaration of false information) of the Criminal Code of Ukraine. According to investigators, damage caused by Hladkovsky's activities to the state is estimated at more than UAH 10.6 million, or US$423,500.
In addition, SAPO agents said Hladkovsky did not declare the income his spouse received from leasing elite real estate in the center of Kyiv.
Bail worth UAH 10.6 million was posted for Hladkovsky by his family on October 21.