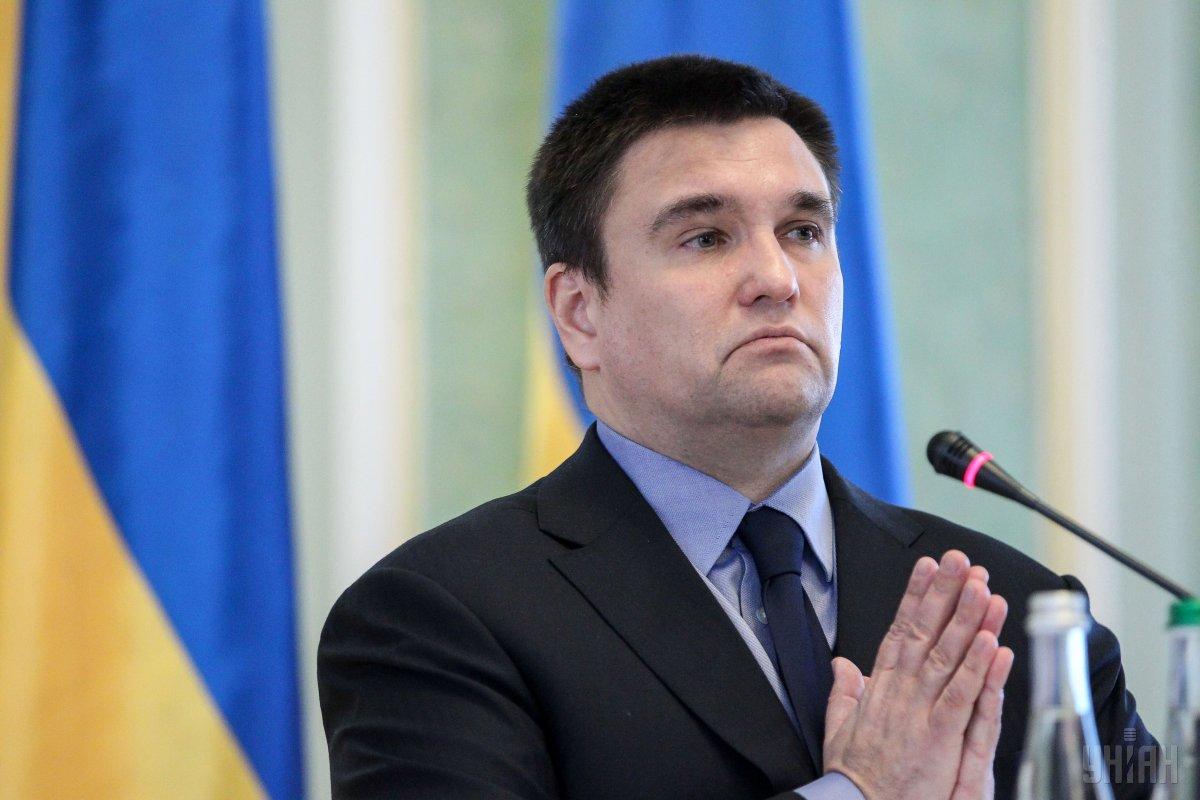 Ex-Foreign Minister Pavlo Klimkin / Photo from UNIAN
Former Ukrainian Foreign Minister Pavlo Klimkin says the Ukrainian government's current task is to prevent, by all possible means, the recognition of Ukraine's Azov Battalion (converted into a Ukrainian National Guard regiment in September 2014) as a terrorist organization in the United States.
"Dear friends, everyone is aware what will happen if Azov is recognized as a terrorist organization in the U.S. It will virtually be a knockout on the volunteer movement and knockdown to Ukraine," Klimkin wrote on Facebook on Monday, October 28.
Read alsoUkrainian MP offering assistance to U.S. Congress in clarifying objective information on Azov
According to Klimkin, preventing the recognition of Azov as a terrorist organization in the U.S. is a matter of Ukraine's state security. Klimkin believes that a recent emotional conversation between Ukrainian President Volodymyr Zelensky and an Azov veteran volunteer can be used to internally destabilize the country, especially against the background of such an initiative in Washington.
As was earlier reported, on October 26, in the settlement of Zolote-4, Zelensky met with a group of volunteers and war veterans, who had been staying since early October, opposing the idea of disengagement in the area.
"I'm not Rudy Giuliani [U.S. President Donald Trump's personal attorney] and I don't particularly believe in conspiracy theory, but somehow it all coincided in time. Now we need to stand up for Ukraine and those who defend it. We need to do our best: to go to Washington and do our utmost and even more. Then we'll figure it out. Ukraine is above all things!" Klimkin said.
Earlier, in October, a group of 40 members of the U.S. House of Representatives led by U.S. Democrat Rep. Max Rose demanded that U.S. Secretary of State Mike Pompeo explain why "certain extremist groups," including the Azov Battalion, had not been included in the Foreign Terrorist Organization (FTO) list.
In turn, Ukraine's Interior Minister Arsen Avakov at a meeting with the U.S. envoy to Ukraine, U.S. Charge d'Affaires ad interim Kristina Kvien, commented on Ukraine's official position on the information campaign to discredit the Azov regiment, emphasizing the latter's combat effectiveness. He said it was a "planned hybrid attempt to provoke a crisis in relations with our allies and weaken the state's position in the world."
Chairman of the Verkhovna Rada Committee on Foreign Policy and Inter-Parliamentary Cooperation, MP Bohdan Yaremenko (Servant of the People) drafted a letter addressing the 40 members of the U.S. House regarding Azov.
"The letter to the U.S. Congress contains an offer to provide any necessary assistance to clarify objective and unbiased information about the Azov spec-ops unit, as well as an appeal to law enforcement agencies of Ukraine to publish the results of verification of all the facts and allegations contained in the U.S. letter," Yaremenko wrote on Facebook on Friday, October 25.