May Day in Kharkiv marred by clashes between rival rallies
Elderly people marking May Day at a rally in Kharkiv clashed with a group of pro-Ukrainian activists on Friday, with one citizens' group vowing to prevent any unsanctioned public events being held in the city over the May holidays.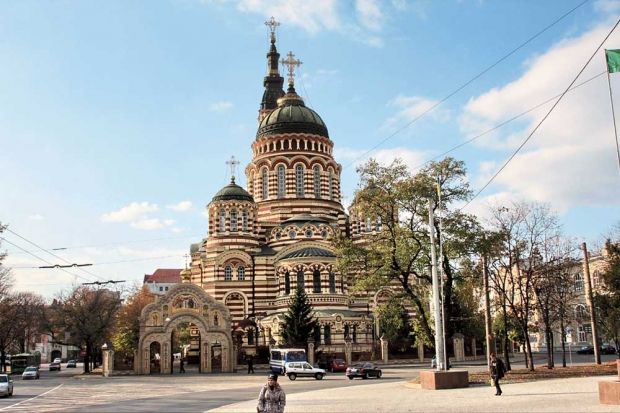 Annunciation Cathedral in Kharkiv / Photo from hotel-gd.com.ua
About 20 people, mostly elderly, in violation of a court ban gathered by a stela next to the city's Cathedral of the Annunciation, an UNIAN correspondent on the scene reported.
They then unfurled a banner reading "Peace. Labor. May."
A court bailiff then informed the group that Kharkiv District Court had on April 30 had banned the Labor Kharkiv organization from holding a rally at the site. Some rally participants said they were not connected with that organization, and they refused to leave.
Next, a group of about 30 young people with Ukrainian flags, some dressed in camouflage, walked up to the rally participants and began to sing Ukraine's national anthem. One of the elderly May Day rally participants attempted to snatch away a Ukrainian flag.
Then, at shouts of "Glory to Ukraine!" from the pro-Ukrainian group, some of the May Day rally participants responded with cries of "Glory to Russia!" and several skirmishes broke out. One member of the pro-Ukrainian group dressed in camouflage snatched posters from the hands of the May Day rally participants and threw them in trash bins.
Police officers at the scene of the May Day rally attempted to usher the elderly demonstrators into a bus, but most refused to follow his orders and dispersed from the area.
Representative of the Hromadska Varta Kharkiv pro-Ukrainian citizens' organization Valentin Bystrichenko told reporters that unsanctioned events should not be held in Kharkiv during the May Day holidays so as "not to undermine the situation" in the city.
Bystrichenko said his organization was cooperating with Kharkiv police during the holidays, and its activists would go to any places where it was attempted to hold "anti-Ukrainian" events to prevent them taking place.
If you see a spelling error on our site, select it and press Ctrl+Enter