Poroshenko insists on sending UN peacekeepers to Donbas
Ukrainian President Petro Poroshenko says that the United Nations should play a greater role in a resolution of the Donbas conflict and send peacekeepers to that region.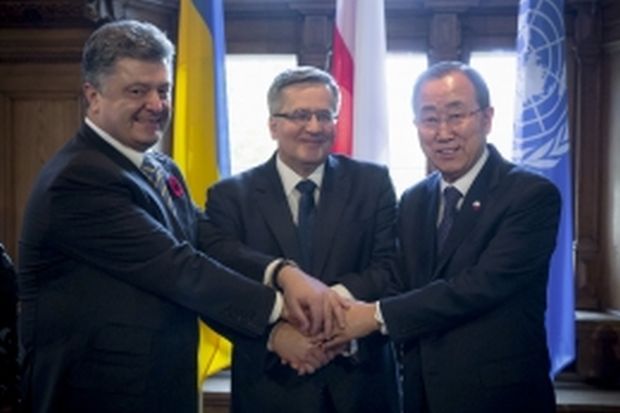 UN Secretary-General Ban Ki-moon pledges to visit Ukraine on May 8 / Photo from president.gov.ua
This was announced by Poroshenko during a meeting with President of Poland Bronislaw Komorowski and UN Secretary-General Ban Ki-moon in Poland on Thursday, the Ukrainian presidential press service reported.
The sides discussed the situation in Donbas and noted that access to the conflict zone was not enough to verify the ceasefire and the withdrawal of heavy weapons.
Poroshenko also noted that humanitarian situation in the area of conflict was extremely difficult and the delivery of Ukrainian and international humanitarian aid became impossible.
The UN Secretary-General in turn underlined the importance of the full implementation of the Minsk agreements by all the parties to the conflict and noted an important role of Petro Poroshenko in the peaceful resolution of the situation. Seventy years have passed since the end of World War II, which killed almost 60 million people, and those horrible events should serve a lesson and a reason to prevent new conflicts, Ban Ki-moon said.
The UN Secretary-General confirmed he had accepted the invitation to visit Ukraine on May 8.
The parties agreed that a Thursday meeting in Gdansk where a lot of European leaders had come to pay tribute to World War II victims is important and symbolic.
If you see a spelling error on our site, select it and press Ctrl+Enter