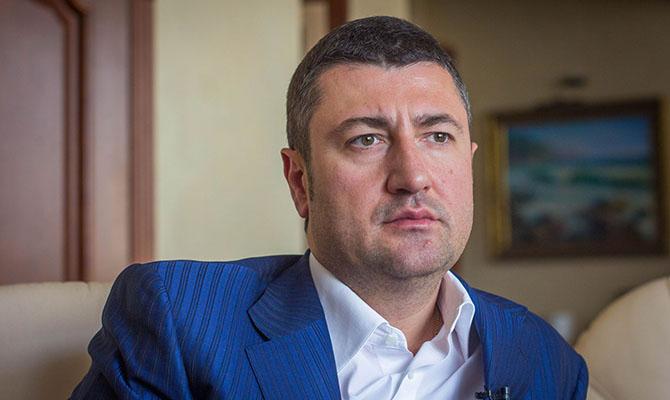 Photo from capital.ua
Former owner of VAB Bank and owner of one of Ukraine's largest agricultural producers, UkrLandFarming, Oleg Bakhmatyuk is going to appeal to the Specialized Anti-corruption Prosecutor's Office (SAPO) to resolve a dispute with the National Anti-corruption Bureau of Ukraine (NABU), which put him on the wanted list on charges of embezzling a UAH 1.2 billion (US$49.6 million) stabilization loan issued by the National Bank of Ukraine.
"Perhaps we will contact the SAPO, we will have a dialogue with them so that they give us the opportunity to defend our rights," he told UNIAN in an interview.
In addition, Bakhmatyuk admits he will also have to go to international courts to handle the situation.
Read alsoEx-owner of VAB Bank Bakhmatyuk going to return to Ukraine soon
According to him, the decision by NABU to serve him with charge papers and put him on the wanted list is politically motivated and is connected with NABU Director Artem Sytnyk's personal animus against the businessman.
"We understand that we have a personal conflict with Sytnyk so this is the way he sends me his greetings. There was a court hearing today [Friday, November 22] because the adviser to my sister, who is a suspect in this case, is a witness testifying against Sytnyk. That is, there is a conflict of interest. We have nothing to do with it, but we have fallen victim to his vendetta," he said.
At the same time, Bakhmatyuk claims he is ready for a dialogue with opponents, provided that they guarantee him equal rights, security and opportunities.
"I am always in the public field and ready for any discussion – even with the worst enemy, but I ask for equal rights, security, and opportunities. But it's hard to talk to someone who is hitting you in the head with a stick, which is his argument," he said.
As UNIAN reported earlier, on November 22, 2019, the website of the Ministry of the Interior published information on putting ex-owner of VAB Bank and owner of UkrLandFarming Agro Holding Oleg Bakhmatyuk on the wanted list. Earlier, on November 14, NABU detectives informed Bakhmatyuk of a suspicion of embezzling a UAH 1.2 billion stabilization loan issued by the National Bank of Ukraine to VAB Bank.
Bakhmatyuk is charged with committing crimes under Part 5 of Article 191 (misappropriation, embezzlement of assets or taking possession of them by abuse of office) and Part 3 of Article 209 (legalization (laundering) of funds and other assets of criminal nature) of the Criminal Code of Ukraine.