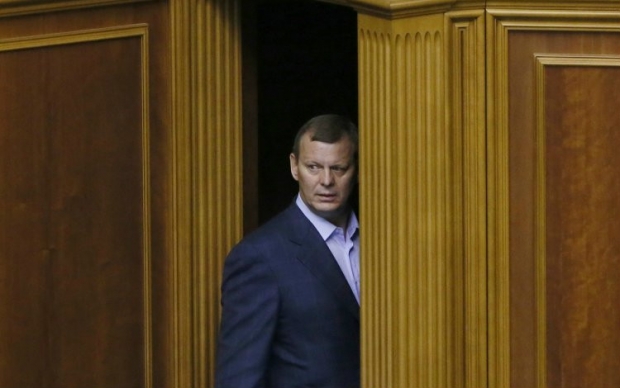 Klyuev suspected of fraud and misappropriation of other individuals' property / Photo from UNIAN
The Prosecutor General's Office will ask the Ukrainian parliament to strip MP from the Party of Regions and co-owner of Slav Handel, Vertretung Und Beteiligung AG Serhiy Klyuev and MP from Oleh Liashko's Radical Party, founder and first commander of the Aidar Battalion Serhiy Melnychuk of parliamentary immunity.
This was announced by Prosecutor General of Ukraine Viktor Shokin at a press briefing in Kyiv on Tuesday, an UNIAN correspondent reported.
According to him, a respective motion was put forward by the Prosecutor General's Office in parliament.
"Today, on May 12, I have tabled two motions [in parliament] in accordance with Part 2 of Article 80 of the Constitution of Ukraine, Part 1 of Article 27 of the Law of Ukraine on Ukrainian Member of Parliament Status, Part 2 of Article 482 of the Criminal Procedure Code of Ukraine, Article 218 of the Law of Ukraine on the Prosecutor General's Office, asking for authority to bring an action against MP Serhiy Petrovych Klyuev, who is suspected of committing crimes under Part 4 of Article 190 (fraud), Part 5 of Article 191 (embezzlement of other individuals' property), and Part 2 of Article 364 (abuse of power and abuse of office) of the Criminal Code of Ukraine.
Another motion was put forward to bring charges against, detain and arrest Serhiy Petrovych Melnychuk, according to the chief prosecutor.
Shokin said that "much time is needed" to name all the crimes Melnychuk is accused of, as "there are quite a lot of them."
At the same time, the Prosecutor General mentioned that Melnychuk was accused of forming a criminal gang.
After three months in office, Prosecutor General Shokin said that these motions were "the first test of his pen in this matter."
"I assure you that they won't be the last ones to be put forward by the Prosecutor General of Ukraine regarding the crimes committed by Ukrainian parliamentarians," he added.
Answering a question from journalists who asked about the crimes Klyuev was suspected of, Shokin said he was charged with fraud and misappropriation of property belonging to other people. His brother Andriy Kluyev is convicted on the same counts.
In accordance with the respective articles of the Criminal Code, Klyuev could be sentenced to more than 10 years in prison, while Melnychuk faces life imprisonment, Shokin said.
However, he added, the punishment could be either stepped up or relaxed respective of the course of the further investigation, he added.