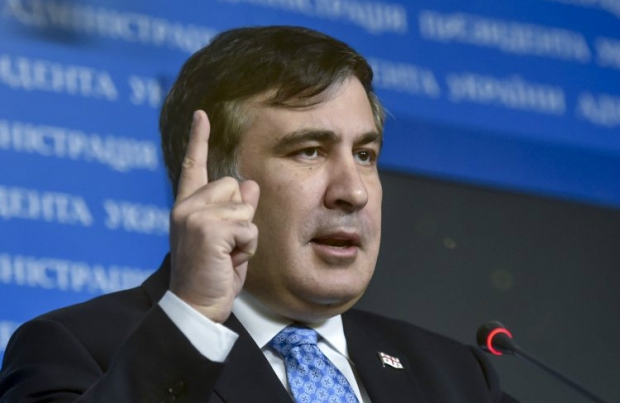 Saakashvili pledges to help Ukraine conduct reforms / Photo from UNIAN
Ukrainian President Petro Poroshenko has approved eight members of the International Advisory Council on Reforms chaired by former President of Georgia, Mikheil Saakashvili.
"The goal is to help Ukraine in reforms with useful advice and proactive position in its support in the international arena. The world and, most importantly, the public of Ukraine, require radical changes. And we will do our best to make these improvements a reality," Saakashvili wrote on Facebook on Thursday.
Deputy Head of the Presidential Administration Dmytro Shymkiv said that three months after the creation of the International Advisory Council on Reforms, its Chairman Mikheil Saakashvili had managed to gather a very powerful pool of experts, including three former prime ministers from European countries. "All these people have proven to be successful politicians and reformers, leaders of public opinion in their own countries and internationally. We are confident that this composition of the Council will provide substantial assistance to Ukraine in implementing top priority reforms, as well as in promoting the country's interests in the world," he said.
According to Saakashvili, President Poroshenko signed the decree on the composition of the Advisory International Council of Reforms for the President of Ukraine. It includes prominent politicians, such as the Chairman of the Foreign Affairs Committee of the European Parliament Elmar Brok, and active member of the European Parliament Jacek Saryusz-Wolski, Carl Bildt, the famous author of the Slovak reforms Mykolas Dzurinda, well-known economist Anders Aslund, Andrius Kubilius, who twice served as the Prime Minister of Lithuania. This is just the initial composition of the Council, will expand and grow. A great friend of Ukraine, the former President of Poland Aleksander Kwasniewski expressed his desire to join the Council.
Saakashvili wrote that "several prominent international figures [U.S. Senator John McCain (R-AZ) has been mentioned among them] are in a dialogue with us about the involvement in the Council."
Every two weeks the Council will publish a report on how the reform process is going, about achievements, and about the problem issues.
The Council was formed under a presidential order dated February 13, 2015. Saakashvili was appointed chairman of the Council.
Member of the International Advisory Council on Reforms for the President of Ukraine is a non-paid position, does not involve any official functions and is purely honorary.
Президент Порошенко подписал указ о составе Совещательного Международного Совета реформ при Президенте Украины. В него в...

Posted by Mikheil Saakashvili on 13 Май 2015 г.